Tournament Historical Documents
No State Tournament in 2020: COVID-19 Pandemic
2020 9-Man Section Champions
Section 1
Lanesboro High School Football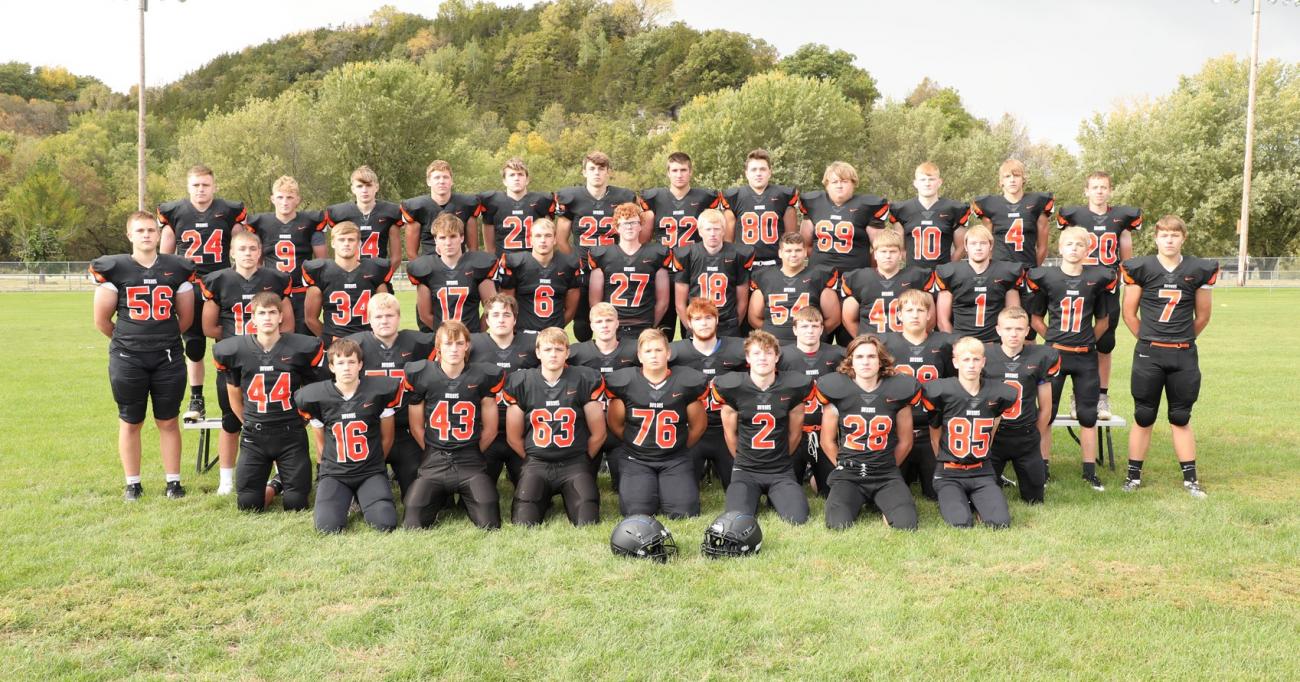 Row 1 (L-R): Kaden Stettler, Michael Rein, Reuben Swartzentruber, Caden Johnson, Mason Howard, Boston Wright, Luke Ruen. Row 2: Logan Torgerson, Brock Taylor, Cooper Ferrie, Carter Hovland, Cody Gray, Orion Sass, Peyton Olson, Parker Storhoff. Row 3: Stephan Schultz, Reece Benson, Carter Clarke, Bodey Wright, Seth Semmen, Jacob Peterson, Jordan Peterson, Clay Schwichtenberg, Trevor Ruen, JT Rein, Adam Ruen, Hayden Lawstuen. Row 4: Devin Troendle, Cale Anderson, Austin Moen, Jake Gathje, Sawyer Johnson, Ben Snyder, Bodie Mayer, Ryan Holmen, Blake Reinhardt, Caden Anderson, Ryan Kelly, Wilson Storhoff. Not Pictured: Will Harvey, Will Asleson.
---
Section 2
Renville County West High School Football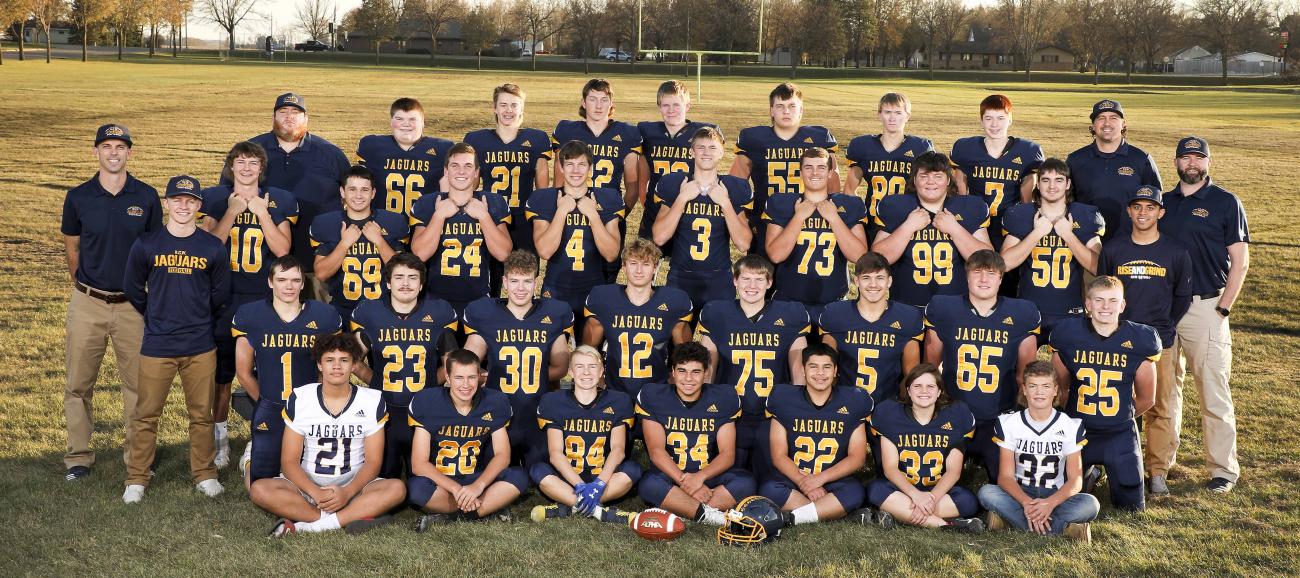 Row 1 (L-R): Jaise Miller, Carson Allex, Isaac Haen, Spencer Schroeder, Isaiah Botello, Breanna Winzenburg, Zach Gustafson. Row 2: Coach Connor Aalderks, Jonah Nauman, Luki Hale, Daniel Werninghaus, Cale Bryan, Noah Gullickson, AJ Gasca, Carter Rice, Hunter Ridler. Row 3: Ryan Hebrink (Head Coach), Ayden Gustafson, Richard Vaughn, Jaden Kolker, Brandan Hoberg, Riley Ashburn, Landon Tanner, Jacob Haney, Nathan Schmidt, Coach Jaime Castillo, Coach Adam Zaske. Row 4: Coach Andy Davis, Caden Arterburn, Jack Wertish, Jasen Jansen, Seth Lippert, Tyler Amsden, Ethan Haen, Adam Schrupp, Coach Mike Johnson.
---
Section 3
Hills-Beaver Creek High School Football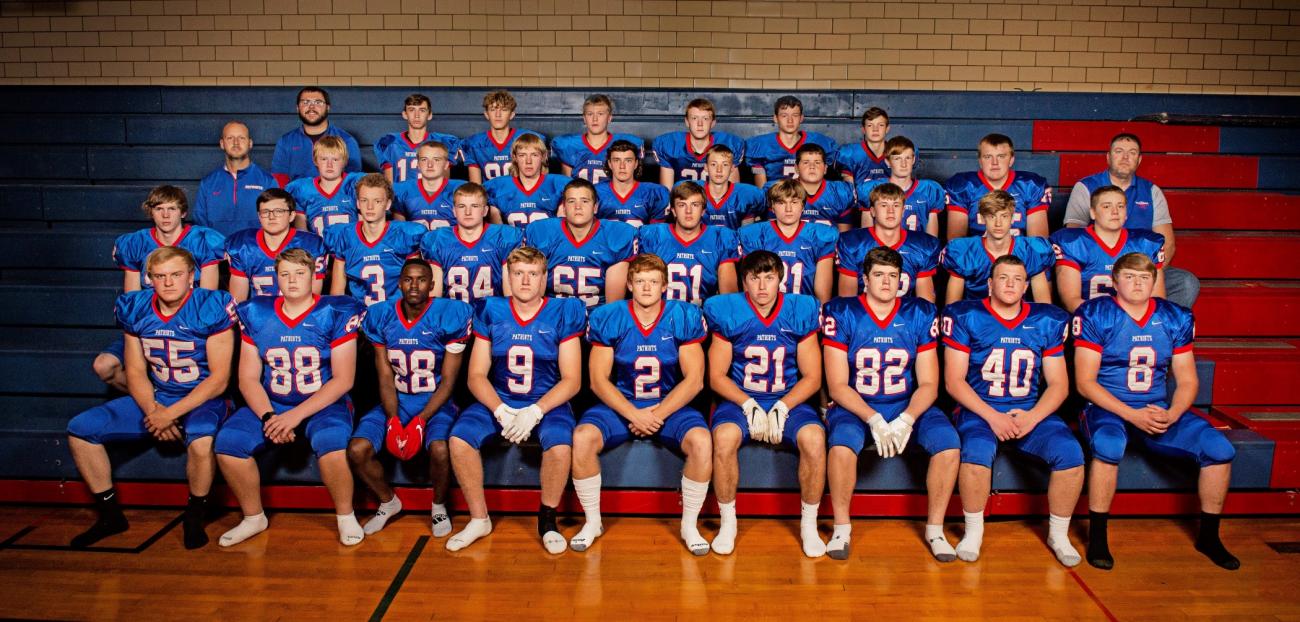 Row 1 (L-R): Tory Knobloch, Thomas Dysthe, Dewell Rauk, Tryce Bennett, Gavin Wysong, Tyson Bork, Zander Wysong, Calvin Erickson, Chase Bosch. Row 2: Cole Baker, Austin Allen, Oliver Deelstra, Andrew Harris, Max Scholten, Troy Durst, Ty Bundesen, Casey Kueter, Gideon Taubert, Robbie Drake. Row 3: Coach Rex Metzger, Cole Rozeboom, Alex Harris, Joshua Wiersema, Luke Fuerstenberg, Collin Schoneman, Brayden Metzger, Brock Harnack, Cody Moser, Coach Jason Rauk. Row 4: Coach Dalton Bass, Cooper Gehrke, Alex Dysthe, Riley Tatge, Aiden Kerkhove-Brandt, Damion Meinerts, Justin Roelfs. Not Pictured: Drew Leenderts, Donovon Leenderts.
---
Section 4
Hancock High School Football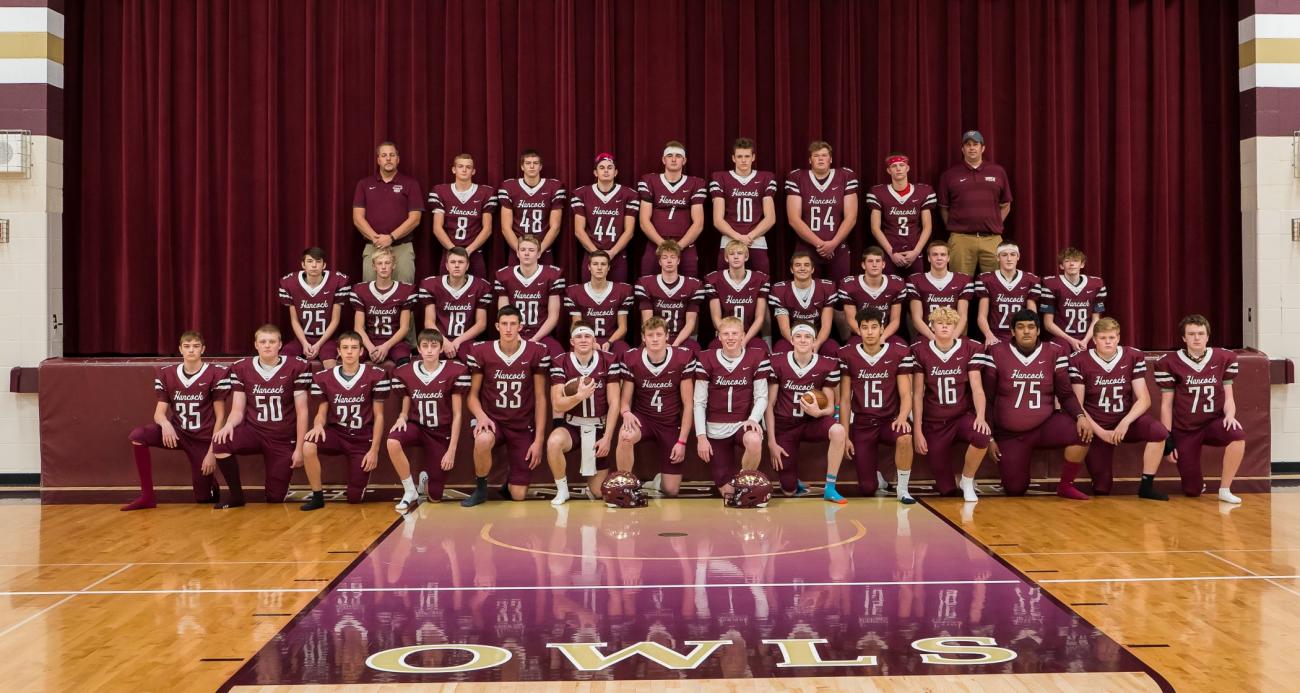 Row 1 (L-R): Rylan Meierding, Ely Rinkenberger, Titus Bjerketvedt, Brayden Kisgen, Matt Thompson, Luke Joos, Toby Messner, Isaac Nienhaus, Jackson Koehl, Sebastian Felix, Hudson VerSteeg, Ralphy Algarate, Matt Aslagson, Gage Schmidgall. Row 2: Blake Lenz, Cody Anderson, Zachary Koehl, Chase Evink, Sean Wilson, Brayden DeSmith, Davin Rose, Dain Schroeder, Weston Nohl, David Milander, Logan Metzger, Dallas Walton. Row 3: Head Coach Chad Christianson, Devon Schroeder, Isaiah Flaten, Adam Shaw, Preston Rohloff, Brandon Kellenberger, Bryce Hacker, Wyatt Anderson, Asst. Coach Cory Bedel.
---
2020 Class A Section Champions
Section 1
Blooming Prairie High School Football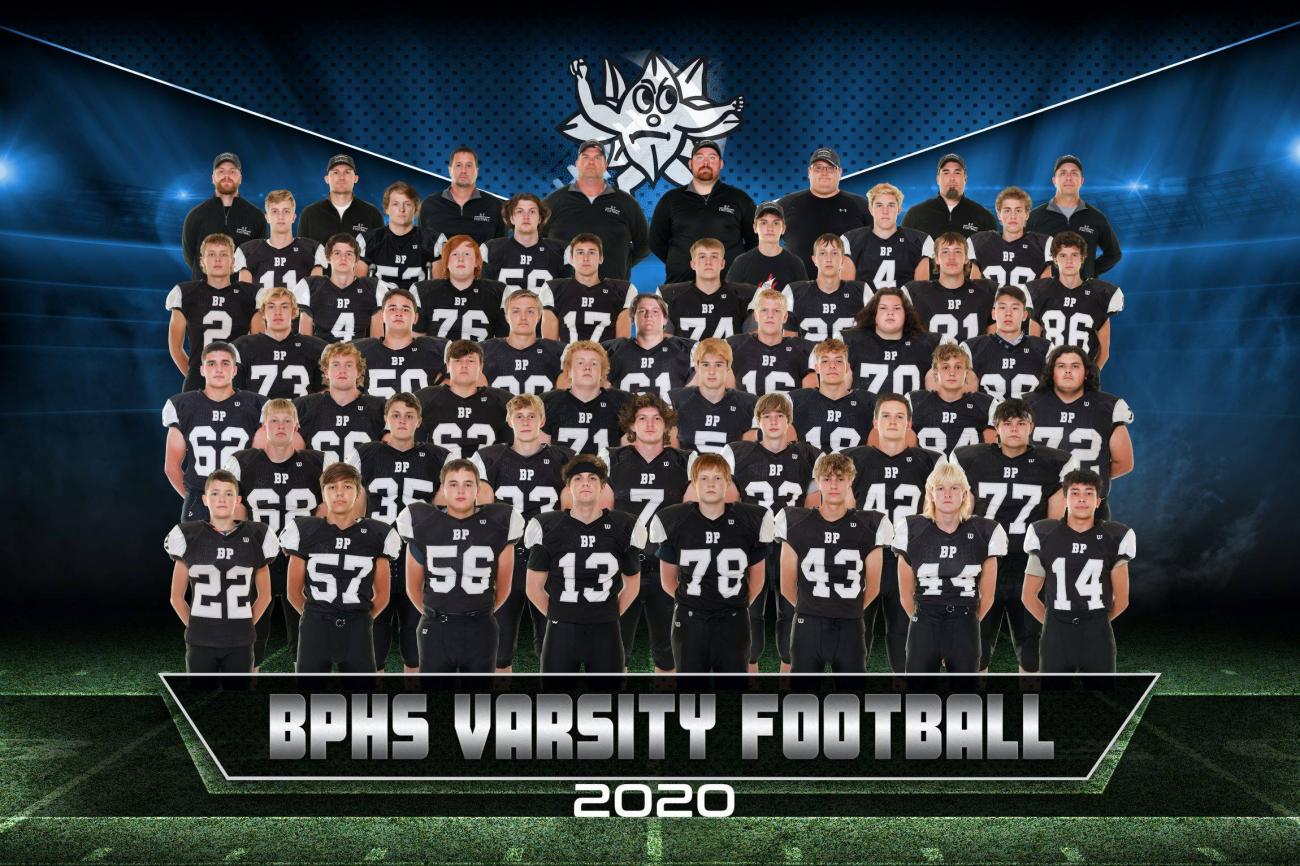 Row 1 (L-R): Jett Swenson, Luke Heimgartner, Justin Bingham, Jacob Weinberger, Dylan Anderson, Maison Johnson, Cale Braaten, Lane Lembke, Row 2: Karson Strand, CJ Coleman, Carson Brennecke, Bradley Simon, Kolby Vigeland, Micah Donnelly, Cobey Sandte. Row 3: Charlie Heimerman, Luke Larkoski, David Kartes, Jayden Schewe, Cade Christianson, Xavier Rennie, Alex Piller, Dawson Sorensen. Row 4: Levi Ryks, Kayd Bush, Tyler Archer, Tim Loverink, Garret Farr, Adam Walsh, Sam Skillestad. Row 5: Colin Jordison, Zach Hein, Ethan Marzolf, Cole Christianson, Sam Pirkl, Derek Kubicek, Mitchell Fiebiger, Gabe Hein. Row 6: Sam Smith, Payton Fristedt, Ezra Kiley, Mng. Elliot Swenson, Drew Kittelson, Paul Sunde. Row 7: Coach Justin Kiehne, Coach David Lassahn, Coach Nate Piller, Coach Karl Steckelberg, Coach Andrew Hardecopf, Coach Josh Johnson, Coach Matt Kittelson, Coach Chad Gimbel.
---
Section 2
G-F-W High School Football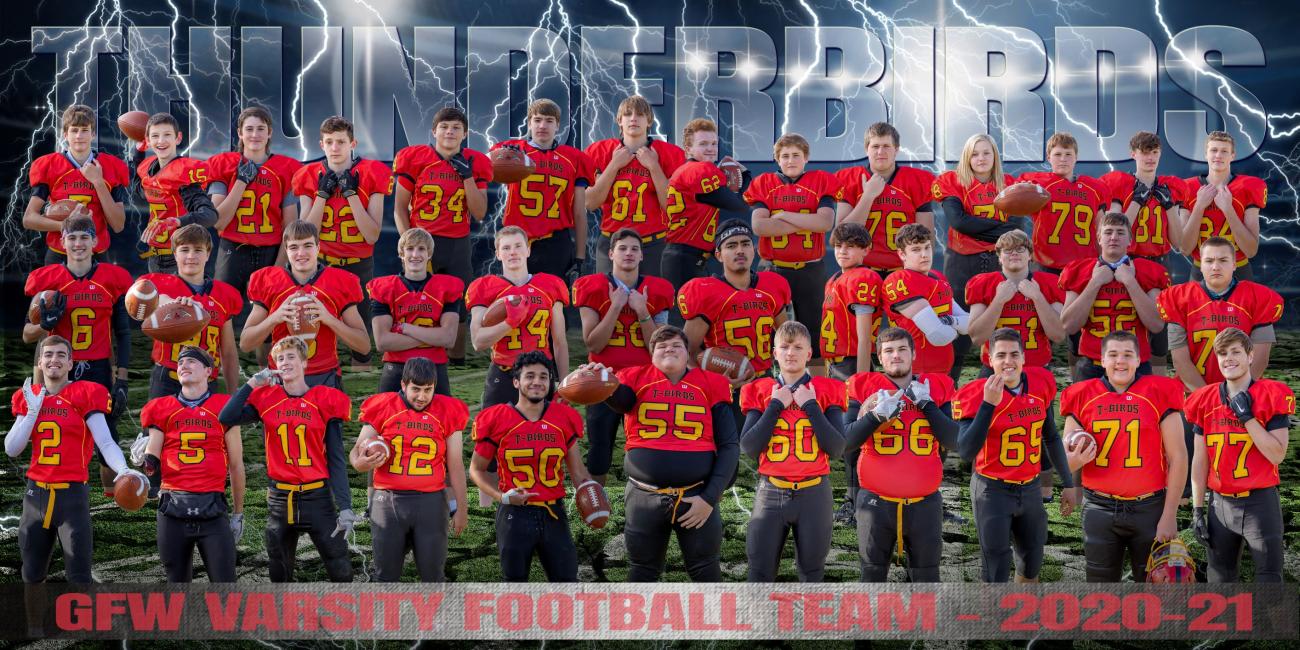 Row 1 (L-R): Dominic Henrichs, Damian Hopp, Evan Elder, Kyle Martinez, Isaiah Medrano, David Stoll, Kamren Freitag, James Wickenhauser, Lorenzo Cappitano, Chris Berger, Mason Neuman. Row 2: Jacob Rose, Nick TenEyck, Brody Hentges, Jack Panitzke, Treay Taylor, Preston Kask, Jesus Munoz, Kalup Aguinaga., Ethan Hill, Michael Schak, Trevor Schweiss, Zach Neusbaum. Row 3: Dominic Rose, Brennir Peterson, Dylan Bernstein, Garret Schmidt, Tristian Krueger, Taylor Schweiss, Alex Johnson, Anthony Rieke, Sam Berkner, Jake Hiles, Jamie Schak, Nate Teneyck, Braylan Freitag, Ashton Buboltz.
---
Section 3
Wabasso High School Football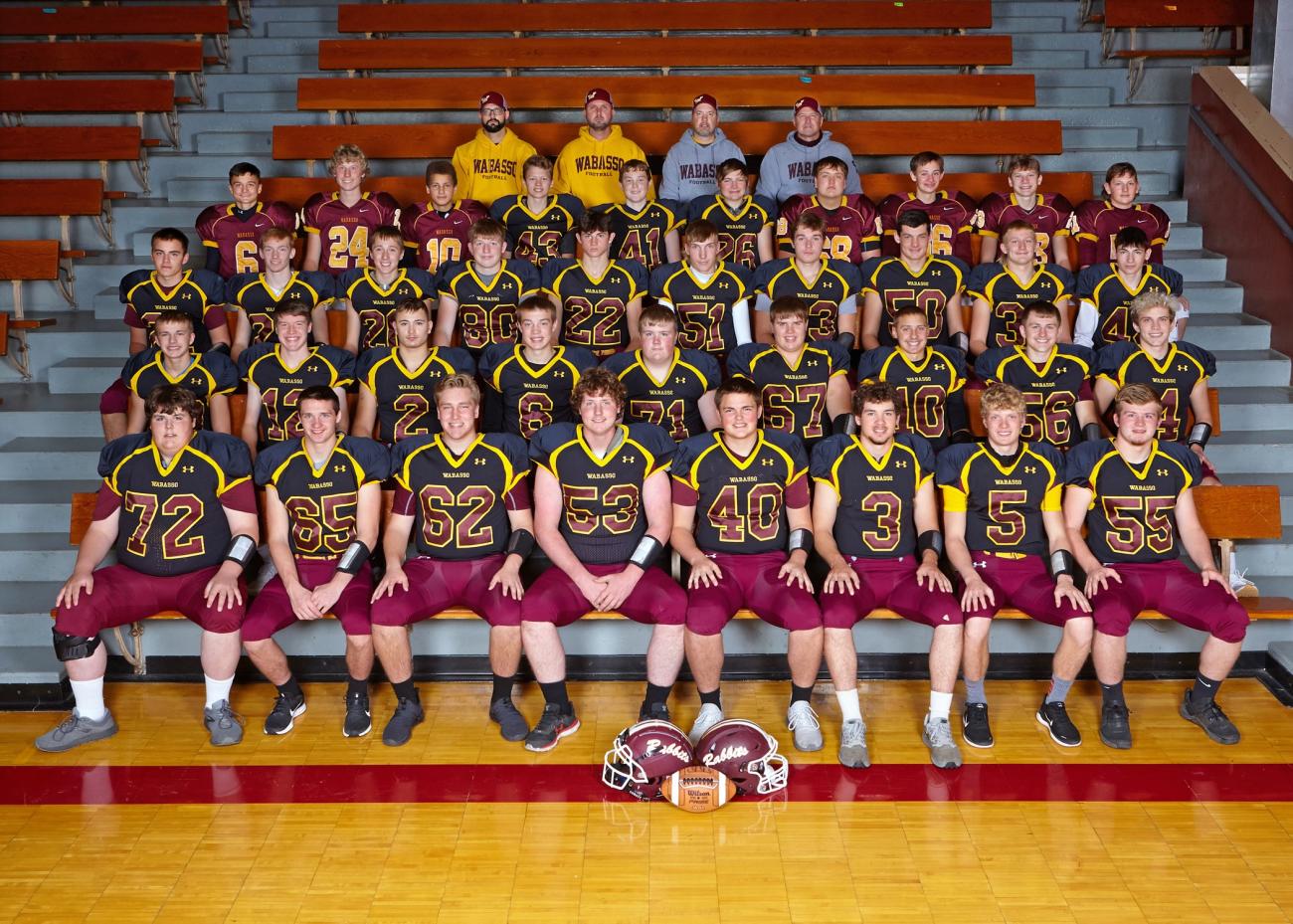 Row 1 (L-R): Ethan Carlson, Tyler Bliss, Sam Rudenick, Jaxon Fischer, Matthew Evink, Hunter Taylor, Carter Benz, Jesse Moseng. Row 2: Dominic Jenniges, Caden Filzen, Nick Marotzke, Colby Wall, Brady Jenniges, Will Carlson, Ty Altermatt, Gabe Martin. Row 3: Hunter Goblirsch, Wyatt Soupir, Adryen Tietz, Sam Welch, Sam Fenger, Treydon Larson, Ben Waknitz, Chase Irlbeck, Christian Sanow. Row 4: Noah Anderson, Joey Liebl, William Flowers, Ashton Weidemann, Karson Bock, Aiden Lanoue, DJ Cole, Garrett Marotzke, Boston Brand, Preston Remiger. Row 5: Coach Cody Kittelson, Coach Chad Olson, Coach Dave Blank, Coach Joe Kemp.
---
Section 5
Minneota High School Football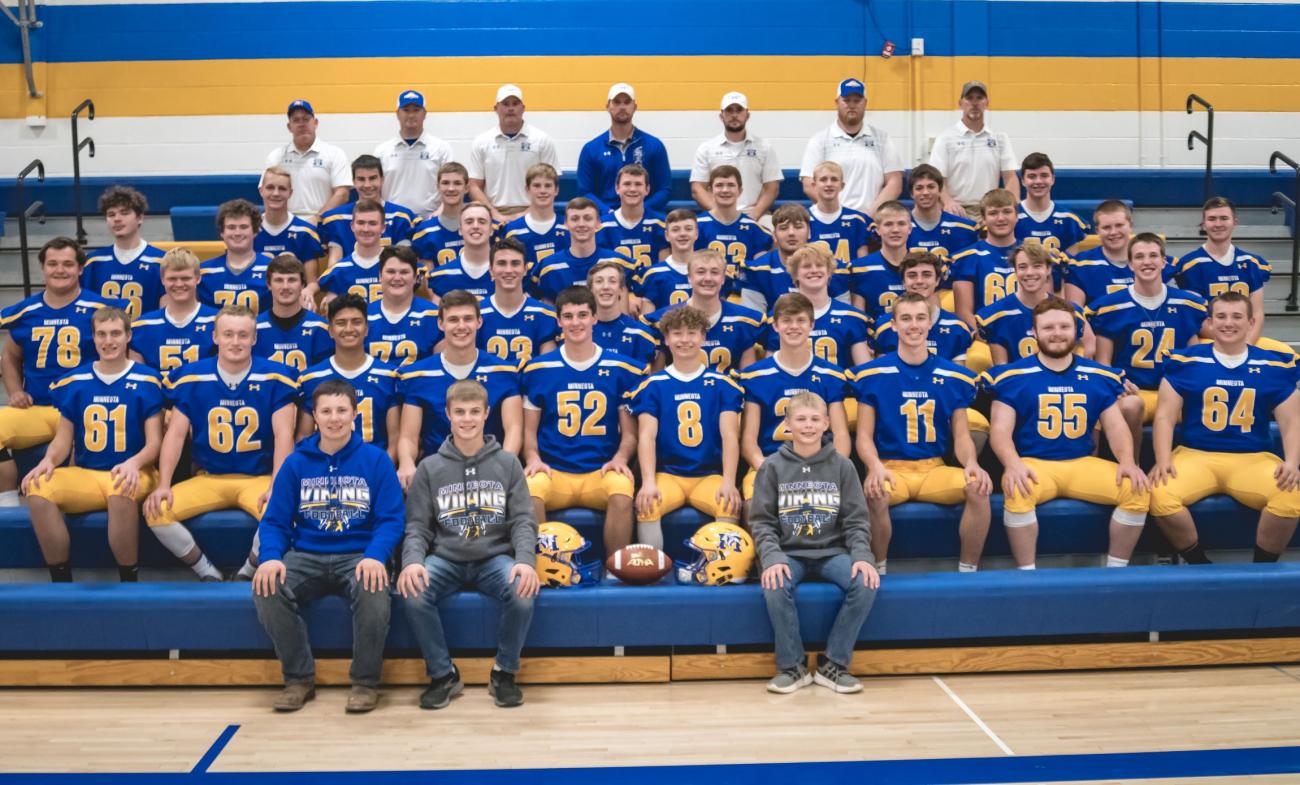 Row 1 (L-R): Kyler Lozinski, Destin Fier, Adam DeVlaeminck. Row 2: Dylan DeSmet, Kaden Culver, Gerardo Gutierrez, Jacob Hennen, Jacob Citterman, Cooper VanOverbeke, AJ Myhre, Joseph Rybinski, Beau Banish, Trey Gronke. Row 3: Jackson Esping, Cole Myhre, Kade Lozinski, Landon DeSmet, Conner Sik, Jackson Lacek, Anthony Rybinski, Jonah Gruenes, Tucker Thooft, Tyler Schmidt, AJ Josephson. Row 4: Branden Johnson, Joe Verschelde, Michael Popowski, Isaac Pohlen, Cale Sorensen, Peyton Gillund, Jaden Gamrak, Zack Fier, Hudson Scholten, Lane Loyson, Evan Popowski. Row 5: Peyton Sheik, Grant Anderson, Keaton Jurrens, Ryan Dalager, Sawyer Desmet, Drew Lipinski, Max Rost, Alex DePestle, Ben Schmidt. Row 6: Les Engler, Jordan Fink, Matt Myrvik, Steve Sussner, Matt Buysse, Brian Rhodas, Chad Johnston.
---
Section 6
Breckenridge High School Football
Row 1 (L-R): Daniel Erlandson, Ben Krump, Cooper Yaggie, Jared Aamold, Chris Nieto, Bryant Hasse, Gus Hasbargen, Jonah Christensen. Row 2: Jacob Vizenor, Gavin Johnson, Jace Hegge, Connor Twidwell, Jayce Werner, Sebastian Anderson, Adam Ohm, Reece Pederson, Alex Martel. Row 3: Gavin Pederson, Dallen Ernst, Gavin Snyder, Griffin Busse, Collin Roberts, Mathew Koltes, James Mertes, Nathan Porter. Row 4: Alex Tschakert, Gibson Hasbargen, Jake Haire, Austin Drewlow, Matt Null, Alex Sanchez, Landon Blaufuss, Joey Conzemius, Dylan Bernotas, Wyatt Differding.
---
2020 Class AA Section Champions
2020 Class AAA Section Champions
Section 1
Waseca High School Football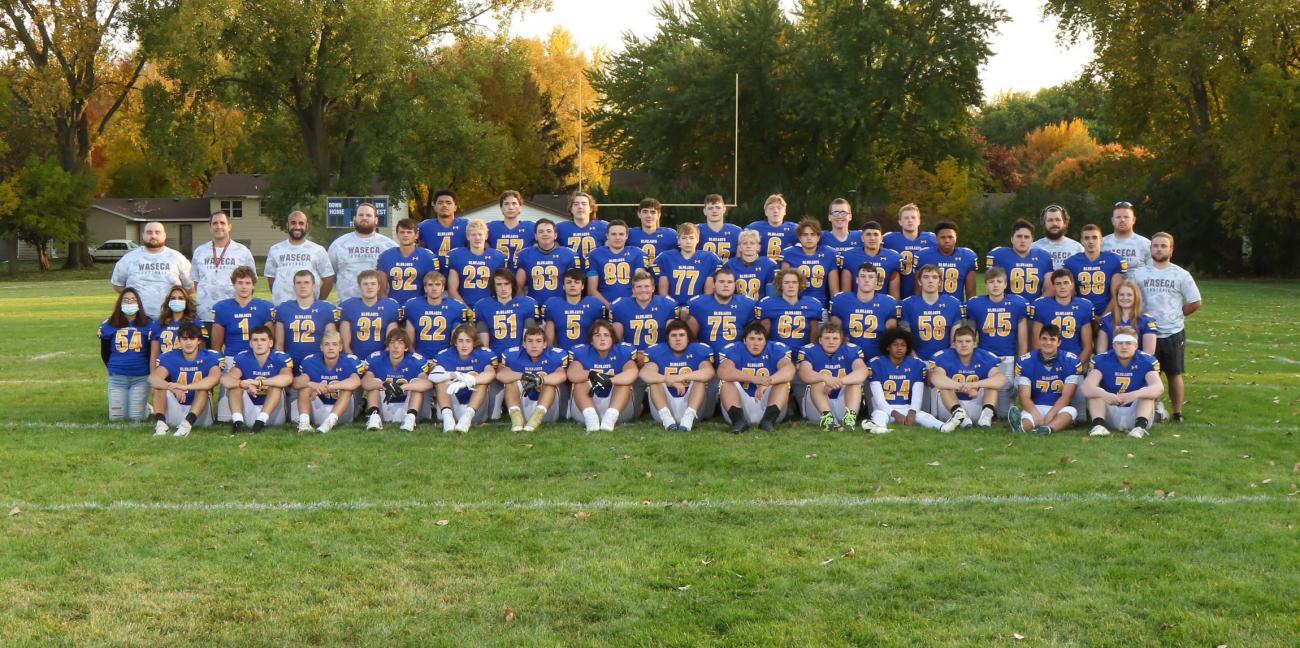 Row 1 (L-R): Connor Buchele, Riley Forshee, Oliver O'Brien, Griffen Krautkremer, Leo Harguth, Payton Garza, Brenden Brown, Ben Moseley, Xavyer Torres, Mason Droog, John Long, Jr., Jacob Harty, Logan Hansen, Ty Below. Row 2: Rosa Cavazos, Faduma Mungani, Jarret Ahlschlager, Ryan Dufault, Tyler Klinger, Matt Haley, Kylynd Adams, K'Shawn Coleman, Jacob Kehler, Payten Haack, Derek Bakken, Buck Kuhns, Ryan Wendland, Isaac DenOuden, Isaac Potter, Eliza Sankovitz. Row 3: Coach Boe Leuken, Head Coach Brad Wendland, Coach Dylan Smallidge, Coach Alec Vesper, Mason Dekruif, Kyle Ahlschlager, Bradley Schroeder, Jacob Praxl, Grady Hoffman, Elijah Biehn, Max Neaves, Genaro Martinez, Tave Ball, Marco Cruz, Christian Rodriguez, Coach Connelly Turek. Row 4: Kyreese Willingham, Ben Diedrich, Ian Medin, Shawn Hulscher, Mateo Mathias, Parker Link, Christian Norman, Jack Nelson, Coach Andrew McGuire, Coach Eric Teders.
---
Section 2
Litchfield High School Football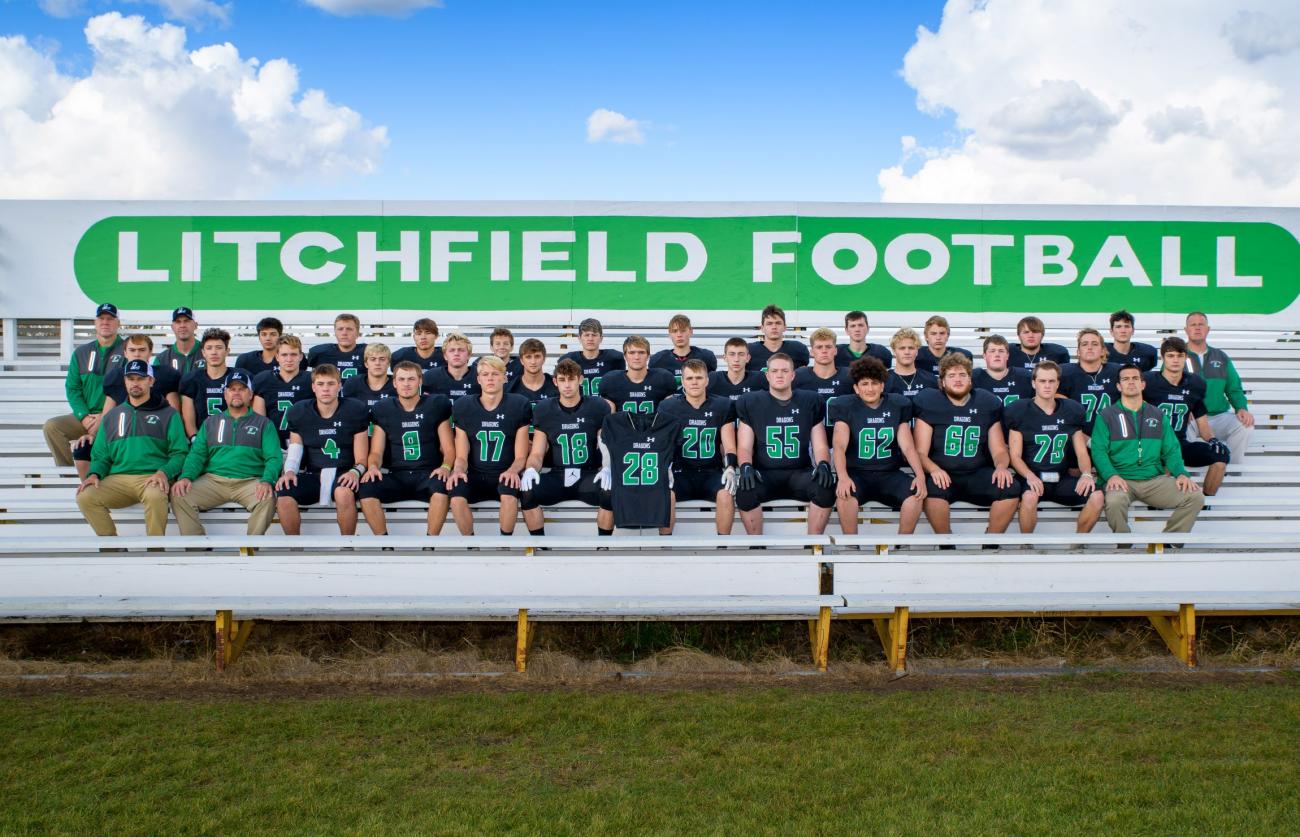 Row 1 (L-R): Asst. Coach Ian Anderson, Asst. Coach Bill King, Ben Alsleben, Drew Kotzer, Tyson Michels, Bennett Lecher, Aiden Nelson, Landon Wagner, Ben Almazan, Christian Kelsey, Maison Olson, Asst. Coach Adam Hayes. Row 2: Beau Weseloh, Eddie Simes, Tyler Jansky, Logan King, Ryan Schutz, Gavin Nelson, Kole Bartlett, Tanner Kohls, Wyatt Larson, Jack Kuechle, Sean McGraw, Dom Dietel, Jeremy Greer. Row 3: Volunteer Coach Nate Kuehl, Asst. Coach Luke Braaten, Cam Baalson, Bradley Larson, Kaleb Maurer, Braden Olson, Victor Franco, Ethan Maurer, Hayden Metcalfe, Gray Nelson, Shelby Lund, Miles Deitchman, Chase Housman, Head Coach Jim Jackman. Not Pictured: Jerry Simes, Mason St. Pierre, Ian Hastings, Alex Kuhnau, Carter Pollock.
---
Section 3
Luverne High School Football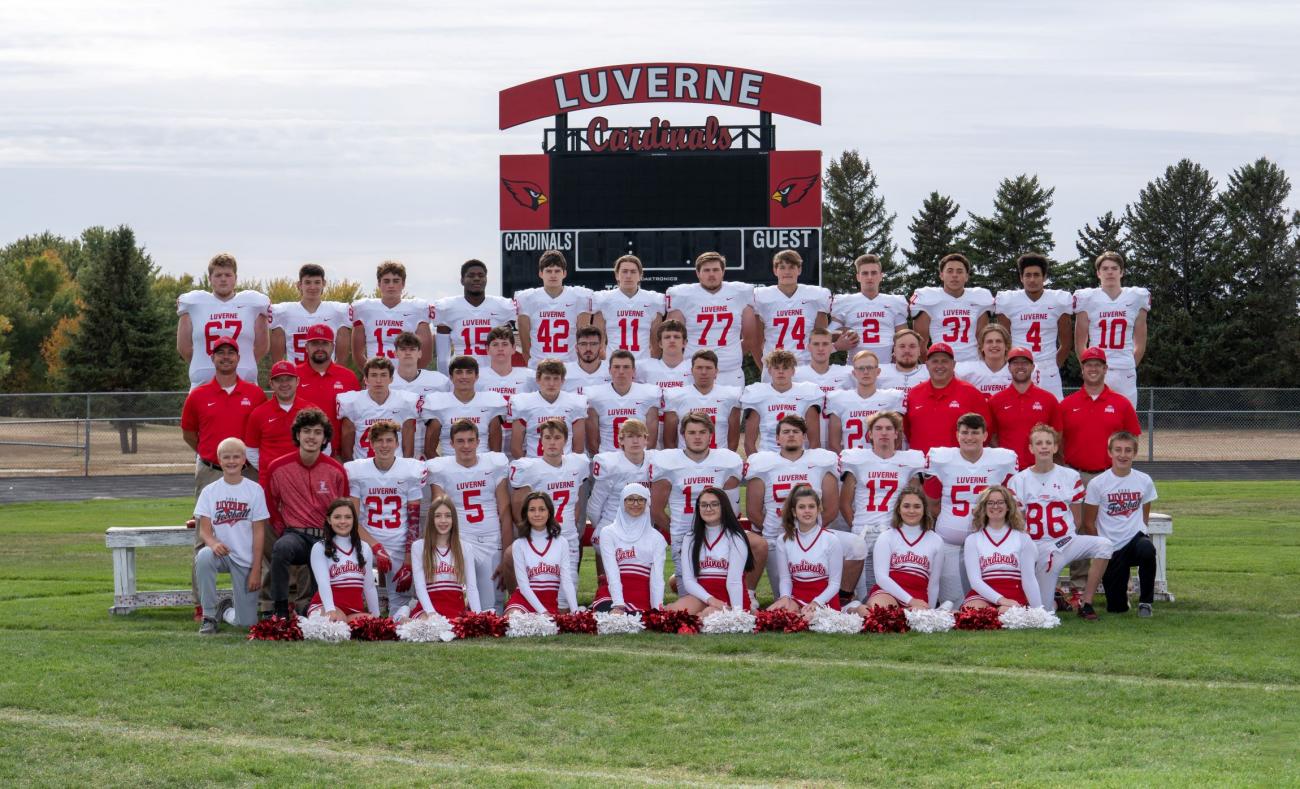 Row 1 (L-R): Brenn Siebenaler, Myles Trimble, Ryenn Stegenga, Mariam Alinizi, Syndal Pick, Bridget Thielbar, Phoebe DeBates, Anna Boltjes. Row 2: Zach Overgaard, Matthaus Dobbe, Shaid Shearer, Casey Sehr, Jack Schlosser, Trygve Gangestad, Zach Kruse, Jaimie McCarthy, Ashton Sandbulte, Andy Halverson, Jack Voorhees, Carter Sehr. Row 3: Coach Tony Sandbulte, Kaleb Hein, Braydon Ripka, Luke Bosch, Ethan Beyer, Ayden Bonnet, Trevor Halverson, Coach Todd Oye, Coach TJ Newgard, Coach Brooks Mauer. Row 4: Coach Mike Wenninger, Coach Jon Schomacker, Gannon Ahrendt, Peter Baustian, Ethan Teunissen, Jordan Friedrichsen, Justin Dohlmann, Zach Ahrendt, Connor Overgaard. Row 5: Michael Aning, Gavyn Boll, Cade Wenninger, Nathaniel Cole Kraty, Jayson Rops, Eli Radtke, Carlton Oftedahl, Cameron Kopp, Bailey Cowell, Arekel McLaughlin, LaShad Smith, Brock Behrend.
---
Section 4
Cannon Falls High School Football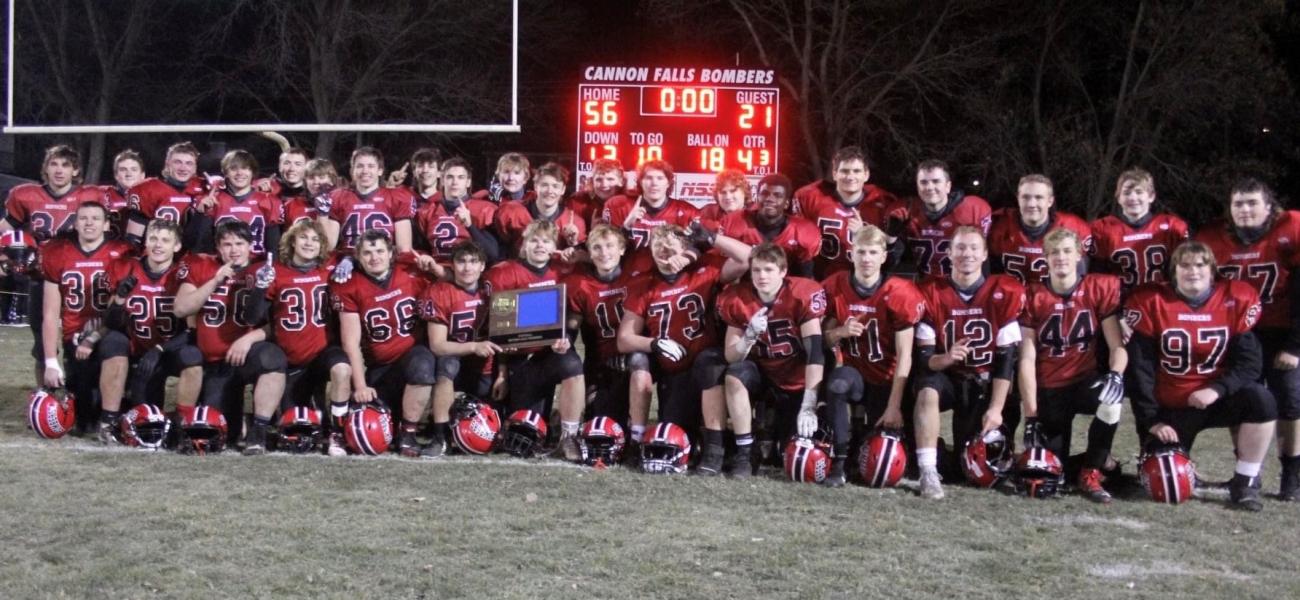 Row 1 (L-R): Cam Dicke, Jake McAdam, Lukas Hoffman, Dillen Anderson, Carson Kronenberger, Mason Anderson-Rosebear, Carter Ekstrom, Marcus Banks, Mike Steinhibel, Loden Bell, Owen Edstrom, Riley Miller, Devin Sexton, Matt Hoffman. Row 2: Riley Keenan, Will Regenschied, Carson Hammel, Logan Anderson-Rosebear, Colton Otto, Isaac Fehling, Beau Zimmerman, Cal Anderson, Jon Banks, Rich Busiahn, Spencer Krinke, Drew Stachowski, Bailey Dwyer-Schacht, Elliot Nelson, Rich Laurie, Kenny Otto, Ashton Beyer, Sam Bahr, Colten Black, Carson Lind.
---
Section 5
Annandale High School Football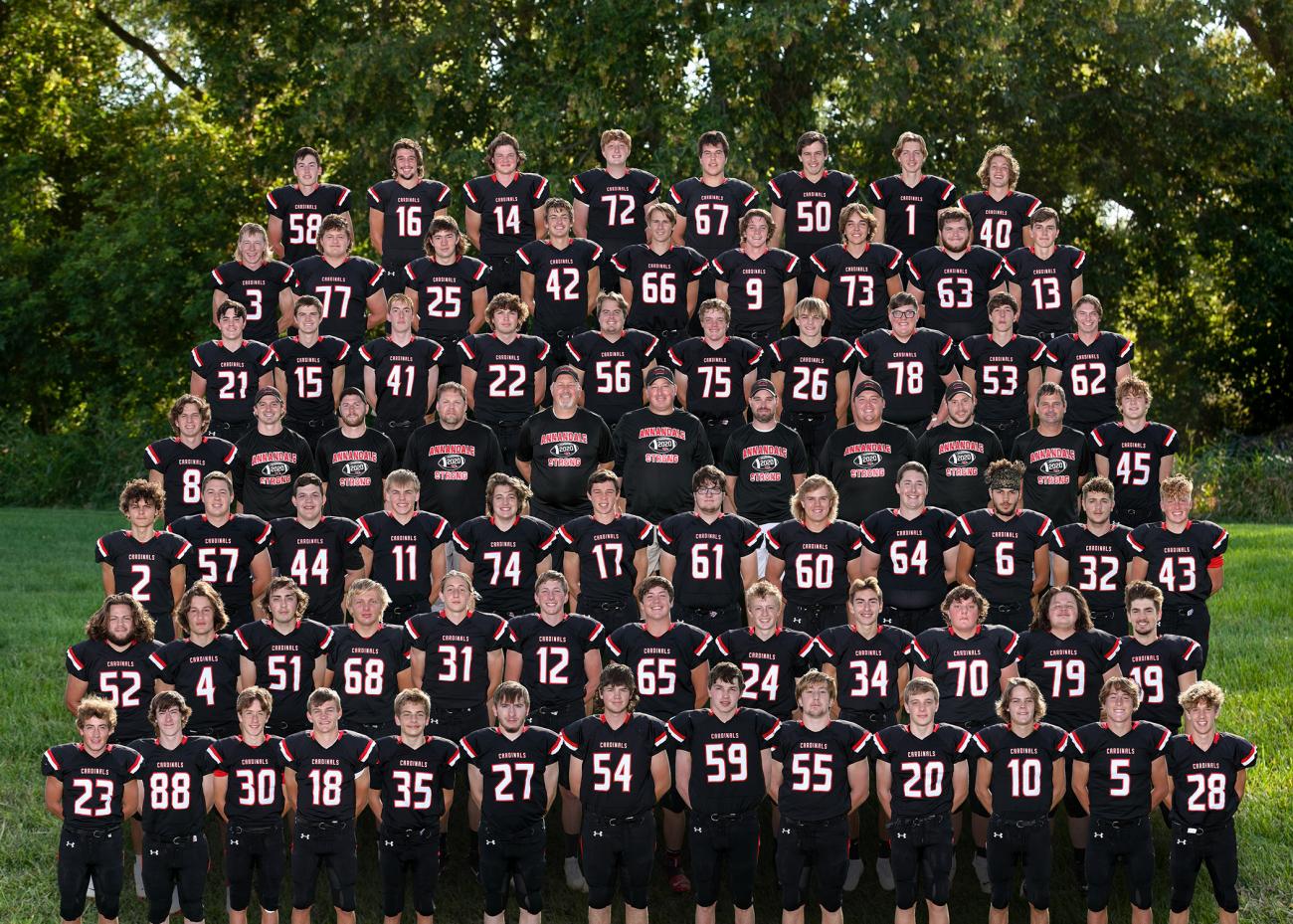 Row 1 (L-R): Rogan Kuser, Dominick Phillips, Jackson Pogatshnik, Carson Gagnon, Mason Totz, Ben Wheeler, Zach Danielson, Jacob Nilson, James Meuwissen, Carson Cooper, Gavin Polston, Bryce Fobbe Isaac Pedersen. Row 2: Alex Klatt, Jack Nelson, Trevor Potter, Gavin Robasse, Ashton Edmonson, Zach Schmidt, Evan Olson, Oliver Johannas, Isaak Rust, Jonah Peterson, Jacob Martin, Riley Niedzielski. Row 3: Carson Wiles, Evan Johnson, Trent Scott, Tristan Shoberg, James Sladky, Isaiah Johnson, Sam Heath, Ethan Allen, Darrin Kunkel, Lucas Evans, Jade Manual, Jake Liebhard. Row 4: Joe Bowman, Asst. Coach Alex Hohenstein, Asst. Coach Nick Anderson, Asst. Coach Mclain Westman, Asst. Coach Mark Kovall, Head Coach Matt Walter, Asst. Coach Matt Dreier, Asst. Coach Alex Becker, Asst. Coach Luke Gagnon, Asst. Coach Chad Gagnon, Caleb Roe. Row 5: Payton Crotty, Alec Braun, Justice Cichon, Evan Norgren, Justin Lampi, Zach Millner, Tyson Shoberg, Elliot Peterson, David Heitkamp, Austin Sundberg. Row 6: Ashton Unzicker, Kessler Kenning, Nels Burd, Monte Diedrick, Ethan Olson, Hawkin Miller, Nick Jenniges, Drew Conte, Jordan Boltz. Row 7: Tommy Eckstrom, John Langbehn, Landon Jones, Zach Neutz, Isaac Hagstrom, Logan Purcell, Brady Spaulding, Ethan Pedersen.
---
Section 6
Albany High School Football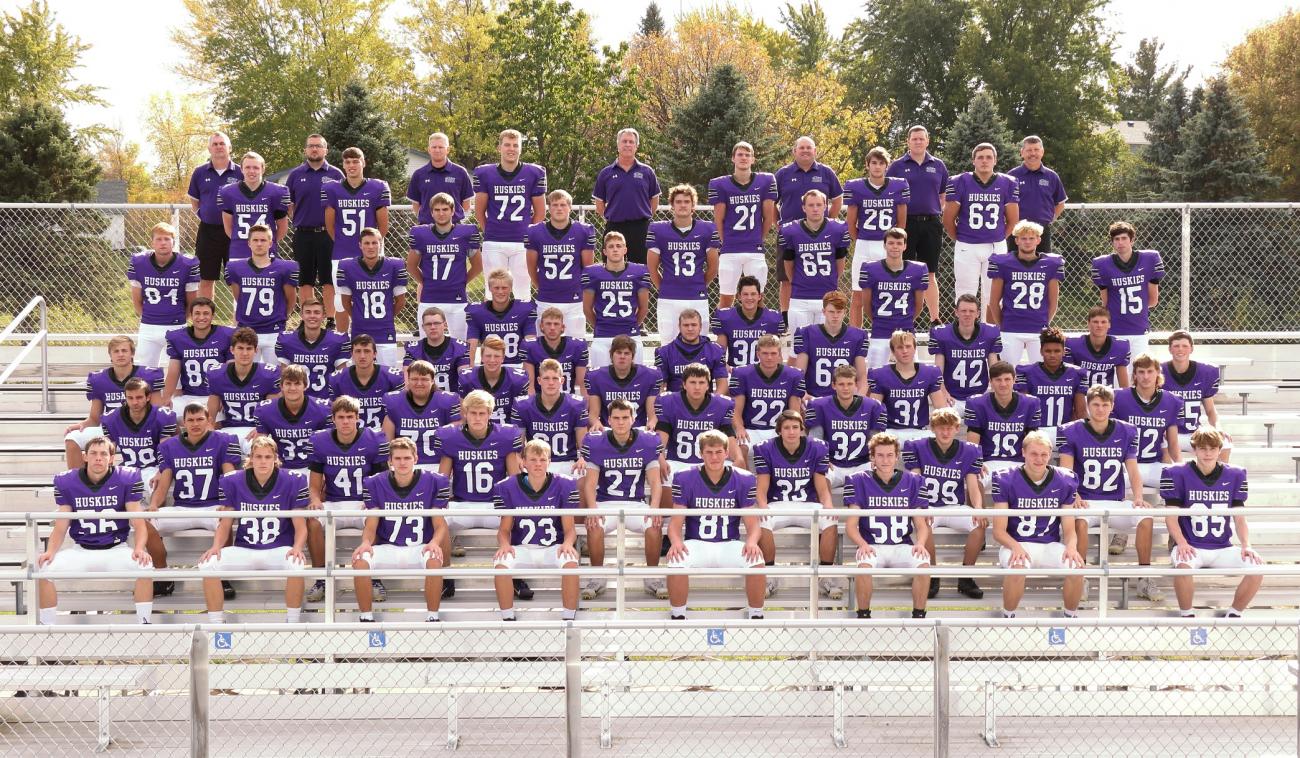 Row 1 (L-R): Carter Sand, Riley Garding, Cameron Smith, Carter Voss, Tayte Lecy, Carter Ricard, Trent Imholte, Chase Shay. Row 2: Cole Panek, Ben Welle, Mason Bierbaum, Isaac Burg, Patrick Sutherland, Grant Kleman, Brady Springer. Row 3: Dominc Niehaus, Isaac Evenson, Peyton Wiese, Ethan Borgerding, Zach Walker, Tysen Gerads, Brayden Roerick, Jayden Mareck. Row 4: Declan Crumley, Thomas Odenthal, Luke Buttweiler, Carter Schiffler, Blake Budde, Carter Birr, Hunter Tate, LaQue Jefferson, Nick Tougas. Row 5: Brady Goebel, Jordan Barker, Caleb Cunningham, Logan Harren, Kyle Jansky, Porter Coplan, Dominic Eiynck, Cole Moulzolf. Row 6: Evan Kalthoff, Liam Cooper, Cole Hause, Blake Winkels, Tate Hoffarth, Caden Sand, Will Mergen, Landon Wenderski, Randall Kruchten. Row 7: Isaiah Gerads, Carter Thelen, Ethan Navratil, Jacob Gourde. Row 8: Travis Imholte, Andrew Huckenpoehler, Andrew Hahn, Nolan Rueter, Zach Moritz, Devin Ritter. Row 9: Coaching Staff: Brian Bierbaum, Zach Dingmann, Todd Kuhn, Mike Kleinschmidt, Al Amdahl, Aaron Boyum, Dave Huberty.
---
2020 Class AAAA Section Champions
Section 1
Kasson-Mantorville High School Football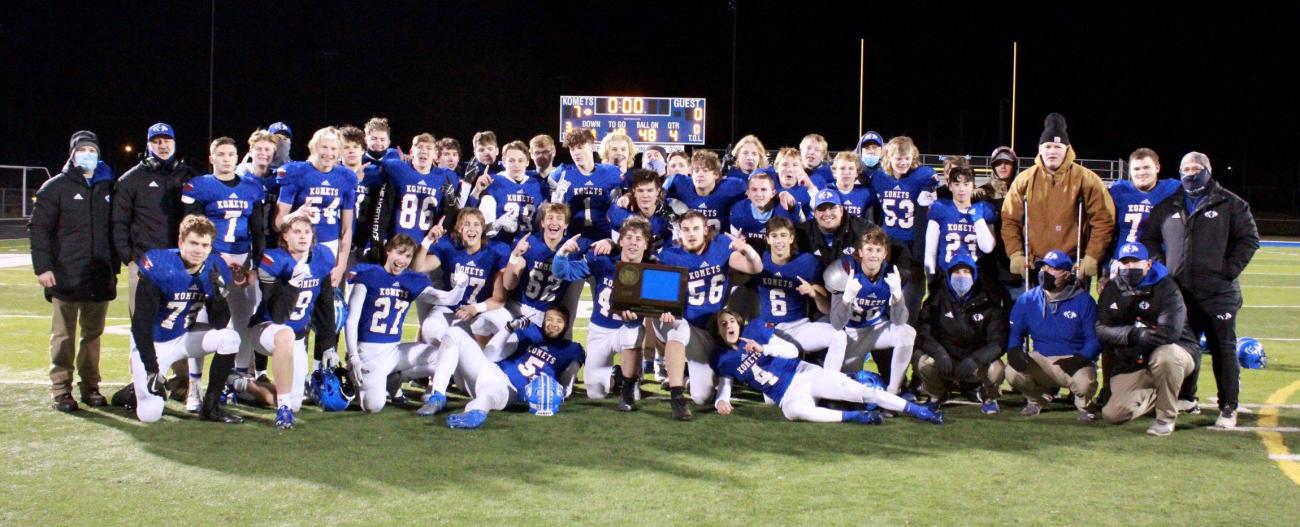 Row1 (L-R): Anthony Moe-Tucker, Matt Donovan. Row 2: Sean Inman, Kyler Kujath, Brooks Buchanan, Kellen Wilke, Gavin Giesler, Jackson Kennedy, Logan Laures, Keyan Smith, Mitch Nelson, Coach Cimmiyotti, Coach Franke, Coach Schmidt. Row 3: Coach Otterness, Coach Bernards, Logan Vaughan, Howard Head, Coach Swanson, Brock Swanson, Logan Leth, Brennan Bondhus, Aiden Hugeback, Aidan Smith, Will Resch, Broc Barwald, Caleb Wright, Jace Bigelow, Owen Bradford, Jakob Aarsvold, Coach Donovan, Gabe Swarts, Ben Nelson, Eli Richardson, Aaron Winkle, Dylon Ramer, Easton Suess, Coach Richards, Logan Snow, Coach Nelson, Antone Elias, Noah Swarts, Maddox Knudson, Kauri Dobbs, Reese Tripp, Hudson Weitzel, Coach DuBois.
---
Section 4
Fridley High School Football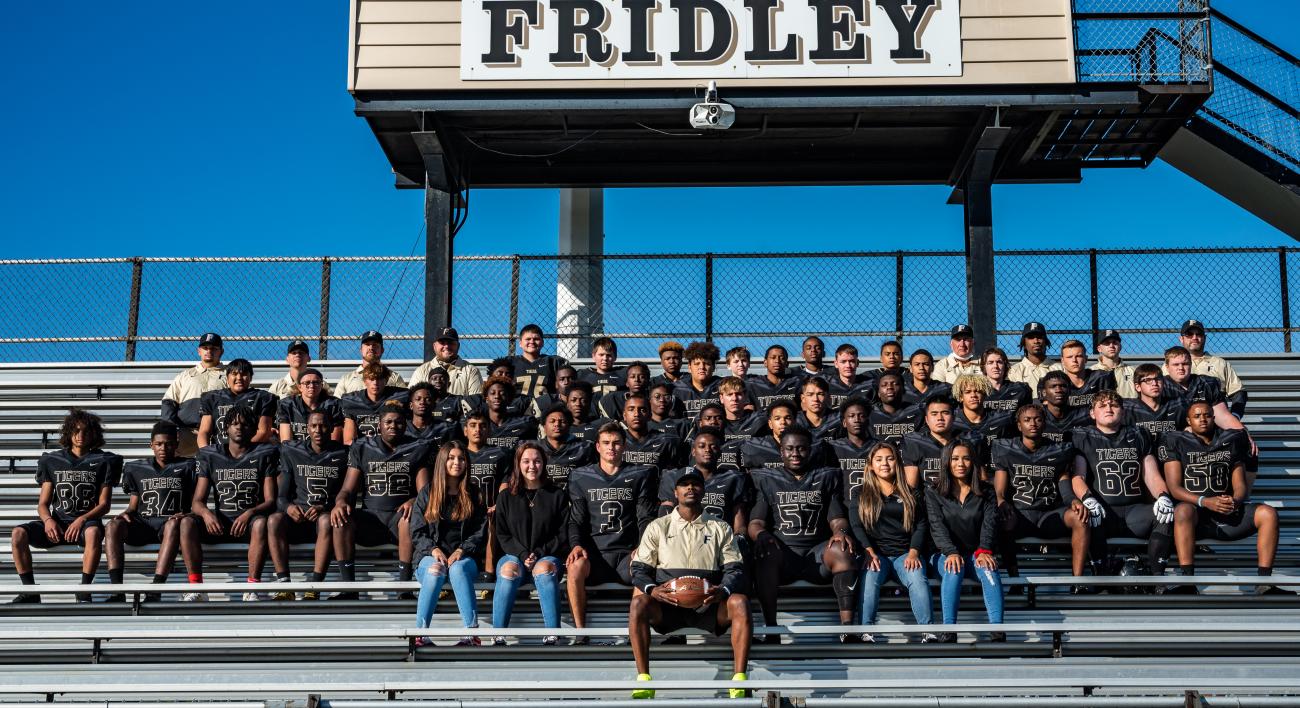 Front: Coach Reese. Row 1 (L-R): Mgr. Kyliee Franco, Mgr. Jaelynn Kozicky, Micah Niewald, Michael Ude, Cheick Kaba, Mgr. Magaly Ruiz, Mgr. Aaliyah Murray. Row 2: Dionte Watson, Eddie Sanders, CJ Powell, Myson Newton, Vernon Lane, Ibrahim Khan, Terrell Davis, Charles Rice, Josh Franklin, Christian Crockett, Tra'vion Stevenson, Kevin Lee, Anthony Borom, Soren Prose, Karami Mohamud. Row 3: Charles Quile, Rueben Kpou, Damarj Robinson, Antoniio Borom, Jackson Ellestad, Zack Gotsch, Tayjion Lee, Devin Williams, Tykelon Moore, Zack Lamont. Row 4: West Yang, Mya Karsten, Cale Karsten, Gabe Arika, Fadel Johnson, Prince Ali, Salmon Shafi, Ezra Detriech, Detrick Jiles, Jack Reynolds, Ben Davis, Dylan Starck, Daniel Pobuda, Caden Holthus. Row 5: Coach Hess, Coach Anderson, Coach Richter, Coach Nalepka, Robert Scheldrup, Evan Rogich, Cartez Cook, Derek Murphy, Kerome Thompson, Isaiah Watson, Coach Swanson, Coach Branscomb, Coach Cook, Coach Bailey.
---
Section 5
Academy of Holy Angels Football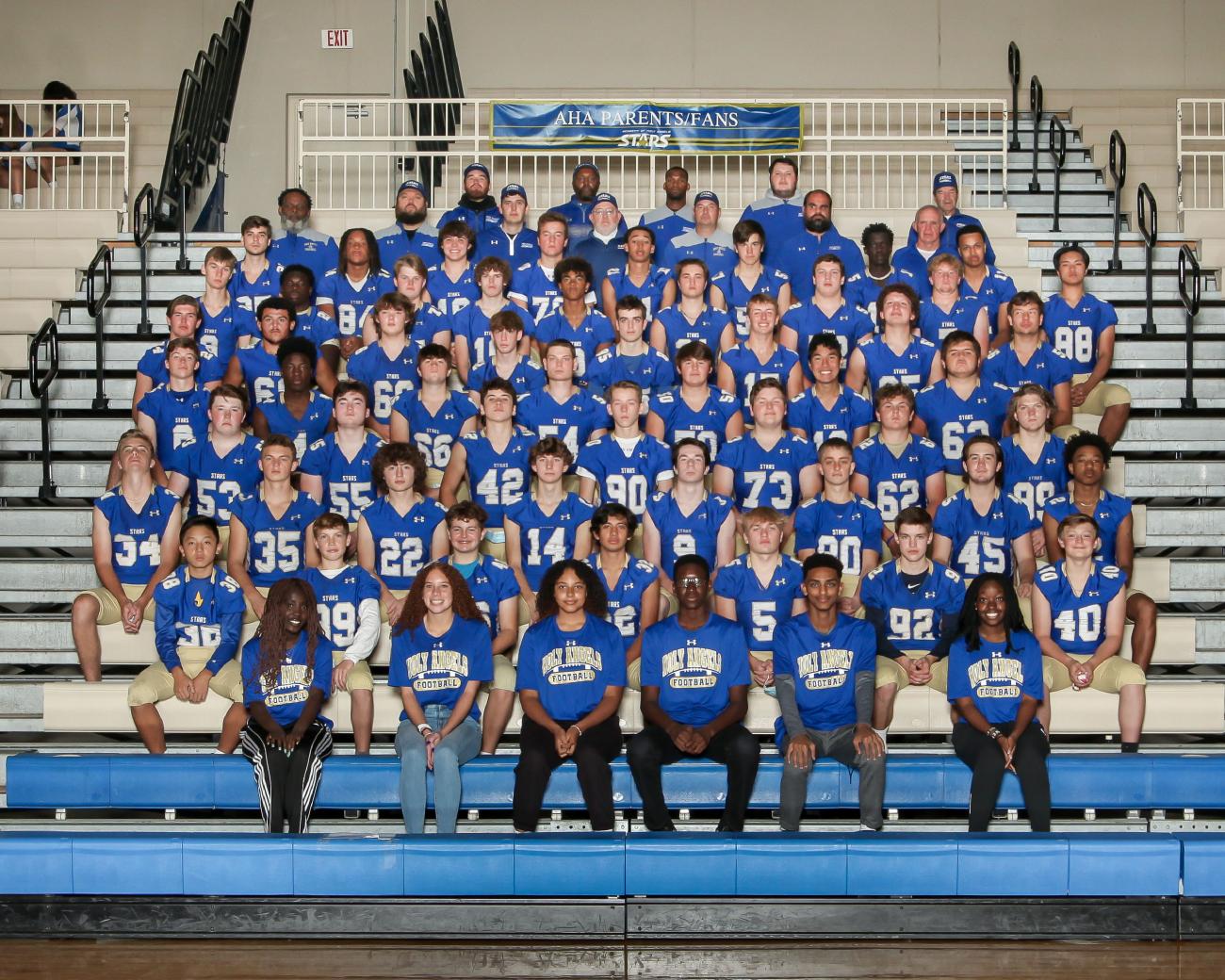 Row 1 (L-R): Managers: Lulu Lako, Amelia Kidd, Cymone Hamilton, Malang Darboe, Semone Matiyas, Sheilah Mathenge. Row 2: Aden Tran, Leon Snyder, Grady Schaber, JP Abdo, Sam Palmer, John Kenney, Hunter Bemis. Row 3: Jimmy Longo, Drake Hoefer, Alan Brady, Nick Rukavina, Matthew Cullen, Braden Stock, Mason Garcia, Terrence Roberts Jr. Row 4: Toby Vetsch, Ryan McGuire, Luke Cronin, Ryan Larson, Joe Warmka, Finn Zellmer, Gavin Overholser. Row 5: Sam Hellstrom, Emmett Johnson, Max Dufresne, Gavin Wagner, Vincent Thull, Bakti Graves, Charlie Broveleit. Row 6: Eddie Graczyk, Rollin Rowe, Evan Stensland, Willy Snyder, Patrick Steichen, Jacob Pung, Luke Szopa, Jack Northrup. Row 7: Will Hillstrom, TaQuez Chatman, Troy Snyder, Brady Ruehling, Chuck Gilbert III, Devin Knosalla, Ryan Bercich, Joe Longo, Martin DeLeon. Row 8: Josh Gillard, Joe Miller, Theo Doran, Colin McCartan, Jaylen Boehm-Peterson, Sam Brumbaugh, Rob Issa, Bryce Boyd. Row 9: Coach Hamilton, Coach Roberts, Coach Boyle, Coach Weiland, Coach Gunderson, Coach Van Houten, Coach Ekmark. Row 10: Coach Beeskow, Coach Woods, Coach Griffin, Coach Pfab, Coach Filstrup. Not Pictured: Noah Hermanson, Grace Hoeppner, Rachel Kawiecki, Patrick Taylor, AJ Boarman, Reid Davenport, Joshua Marin Torres, Antonio Chirpich, Mgr. Jessie Waly.
---
Section 6
Becker High School Football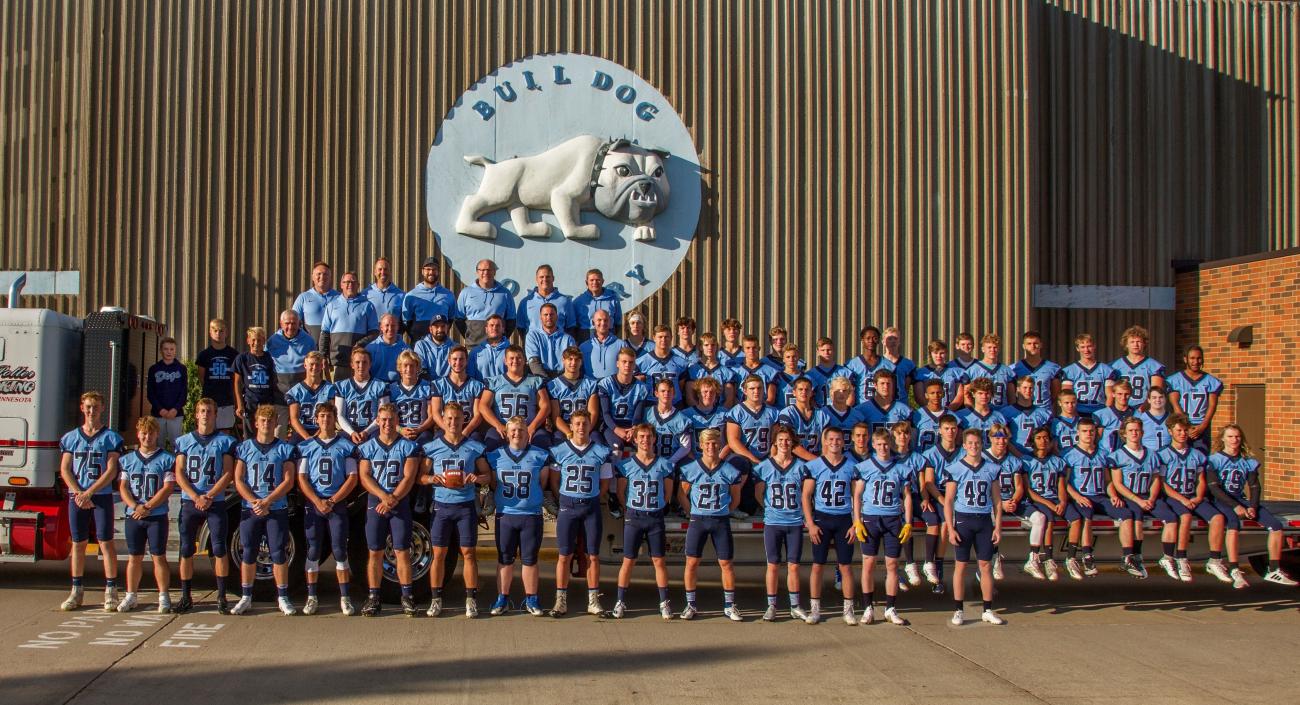 Row 1 (L-R): Brenny Schmidt, Chase Murphy, Derek Roske, Hunter Klatt, Lucas Eigen, Mitchell Louden, Lakken Braun, Caden DeWall, Ethan Wilson, Lukas Paulson, Dylan Riedinger, Thomas Halvorson, Carter Leither, Kyle Millard, Grant Riedel, Eric Seavert, Theodore Halvorson, Nicholas Berglund, Kabir Bhakta, Isaac Regel, Mason Mayfield, Beau Biegler, Josh Robertson. Row 2: Ethan Anderson, Ethan Orgon, Landen Goebel, Joe Goth, Max Hubbard, Mason Rach, Hayden Harmoning, Gavin Swanson, Bryce Kuschel, Parker Meyer, Ian O'Neill, Eli Scheideman, Dylan Kolby, Dailen Adu-Gyamfi, Cooper Wright, Caden Hartkopf, Nolan Muellner, Alex Weiss, Carter Callahan. Row 3: Mgr. Thomas May, Mgr. Sawyer Brown, Mgr. Troy Nuest, Head Coach Dwight Lundeen, Asst.  Coach Derek Bjornstad, Asst. Coach Brady Cobb, Asst. Sam Johnson, Asst.  Tony Miller, Asst. Josh Otto, Aaron Fingarson, Max Olson-Burkman, Harrison Kent, Adam Jurek, Ian Burau, Ryan Bengtson, Logan Dierkes, Zachary Bengtson, Ethan Duncombe, Julius Nyakundi, Julias Hendricks, Collin Jensen, Jack Atwood, Tygen Salvevold, Dylan Weber, Logan Eisele, Grant Studer, Ashandre Mason. Row 4: Asst. Coach Troy Robinson, Asst. Coach Tom Cox, Asst. Coach Hokan Bengtson, Asst. Coach Troy Niedfeldt, Asst. Coach Brent Scheideman, Asst. Coach Denny Nelson, Asst. Coach Mike Lundeen.
---
Section 8
Rocori High School Football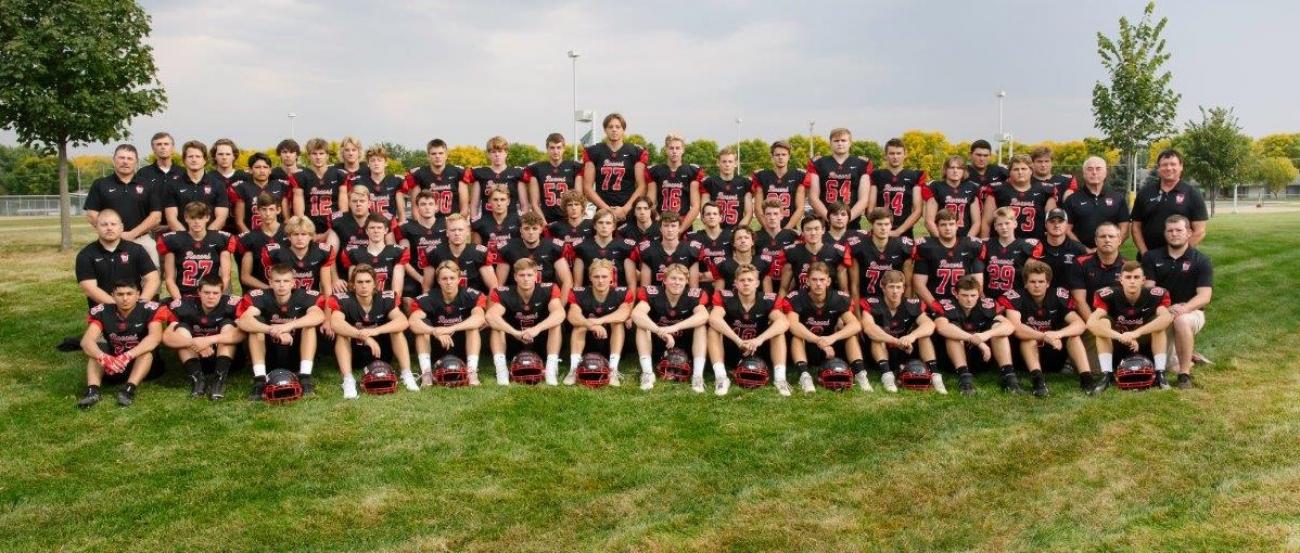 Row 1 (L-R): Eric Garcia, Daniel Kiffmeyer, Landon Winkelmann, Jayden Philippi, Matthew Torborg, Drew Schneider, Camdyn Bauer, Luke Humbert, Tucker Haakonson, Sam Gertken, Brady Linn, Evan Acheson, Mason Louwagie, Sam Zauhar. Row 2: Adam Langer, Chandler Dumonceaux, Nick Thole, Josh Venable, Brenden Franklin, Tanner Rausch, Carter Thelen, Tanner Wieber, Caleb Dockendorf, Nathan Faber, Logan Schmitz, Coach Zach Johnson, Coach Jamie Leither, Coach Justin Baumgarten. Row 3: Coach Derek Ruff, Jaden Lopau, Grayson Drontle, Sam Craft, Matt Schreiner, Brady Blattner, Austin Moscho, Connor Motschke, Jacob Koll, Tiegen Drontle, Zach Harris. Row 4: Coach Shannon Humbert, Coach  James Herberg, Sebastian Novak, Jack Spanier, Thad Lieser, Matthew Goebel, Blake Tylutki, Luke Dockendorf, Jacob Lopau, Grayson Hoeschen, Mason Dahl, Gabe Johnson, Hunter Heidgerken, Jordan Theisen, John Kinzer, Damon Guggenburger, Coach Lloyd Danzeisen,  Coach Joel Baumgarten. Row 5: Coach Gary Distel, Connor Nordine, Hunter Nistler, Luke Van Erp, Jon Sufka, Brent Wittmer. Not Pictured: Henry Theis, Josh Johnston, Luke Gunnerson.
---
2020 Class AAAAA Section Champions
Section 1
Owatonna High School Football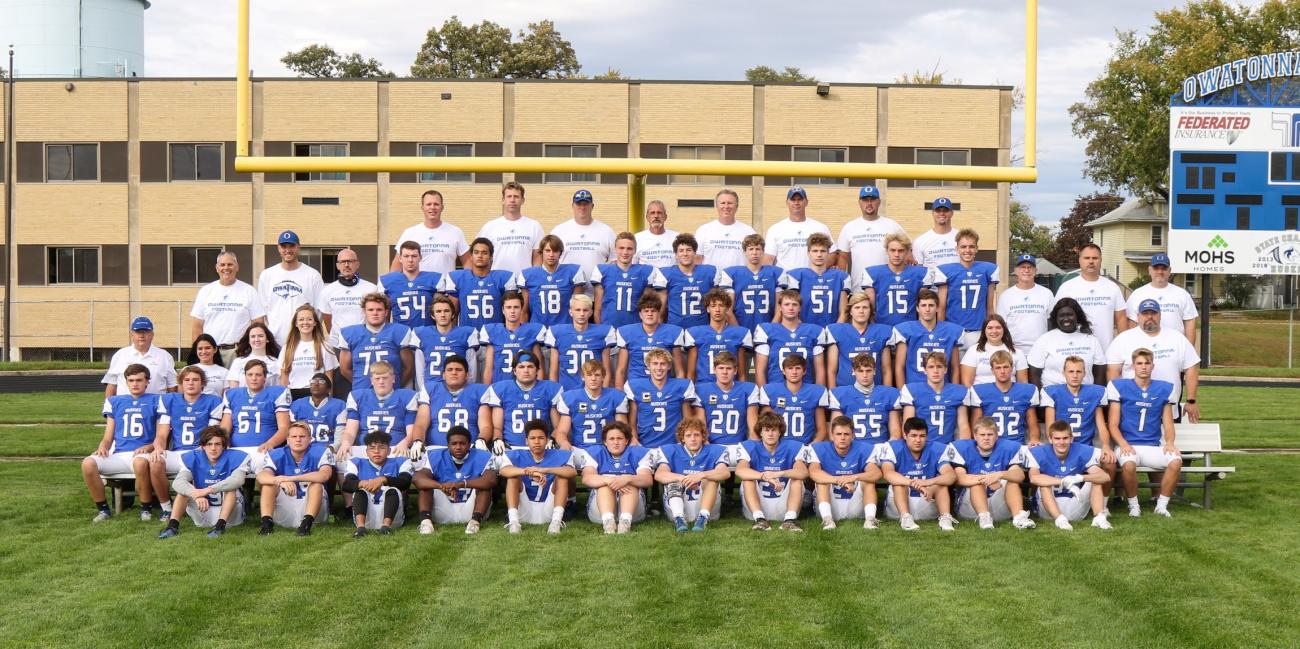 Row 1: Kaven Torabpour, Alex Stenzel, Guillermo Barajas, Tanner Hall, Max Dixon, Lucas Jensen, Caleb Vereide, Chevy Reno, Blake Sommers, Robert Garza, Ashton Jensen, Gage Olson. Row 2: Cael Dowling, Tanner Stendel, Tad Johnson, Omar Muktar, Bailey Keck, Pedro Munoz, Eli Spurgeon, Matt Seykora, Payton Beyer, Zach Stransky, Brayden Truelson, Cole Earles, Dylan Maas, Luke Wottreng, Cade Woltman, Lane Wagner. Row 3: TC Carlyle, ATC, Sophia Garza, Ava McMains, Haley Abraham, Gavin Rein, Aaron Bangs, Eli Knutson, Lane Versteeg, Nick Williams, Tyrel Creger, Aiden Stowe, Reid Stauffer, Hudson Aase, Leone Jacobson, Wilo Omot, Coach Wiese. Row 4: Coach Stelter, Coach Melcher, Coach Clauson, Abe Stockwell, Nate Smith, Connor Budach, Mason Saufferer, Grant Achterkirch, Isaac Peterson, Ryley Glassmaker, Taylor Bogen, Jack Titchenal, Coach Rusinko, Coach M. Skala, Eric Hancock. Row 5: Coach Muir, Coach Thompson, Coach Achterkirch, Coach Williams, Coach Wanous, Coach Eggermont, Coach Noasconi, Coach N. Skala.
---
Section 3
St. Thomas Academy Football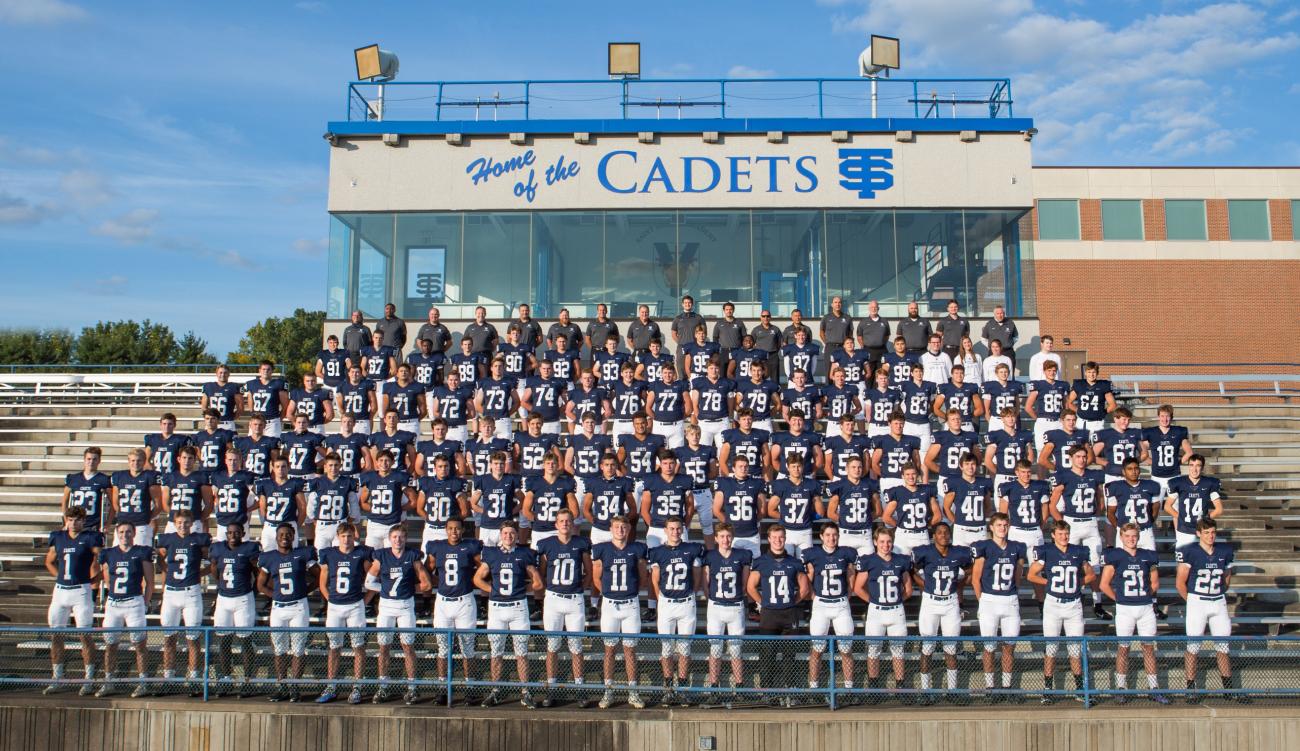 Row 1 (L-R): Angelo Pacyga, Danny McFadden, Brian Goblisch, Yenika Fondungalah, Love Adebayo, Jacob Weinzettel, Grady O'Neill, Jamie Smith, Ryan Creamer, Noah Erickson, Baker Reding, Jake Borman, TJ Adams, Seth Rutgers, Zach Santrizos, Eddie Hanson, Richard Obeakemhe, Jack Dzubnar, Daniel Creamer, Billy Kozlak, Jack Schwab. Row 2: Sam Fulton, Oscar Hrabe, Jackson Cercioglu, Charlie Steel, Daniel Dahl, TJ Budd, Anthony Bickford, Jack Springer, Adam Roszkowski, Mark Rogalski, George Steveken, Simon Kotok, Charlie Woodard, Blake Fritz, Jacob Draxler, Charles Tracey, Oliver Juaire, Nick Johnson, Nick Bartlett, Tony Lalta, Jorgen Mehus. Row 3: Eli Rome, Johnny Miller, Tate Peterson, Maclean Lauber, Joe Kolar, Bennett Kotok, Romain Metzger, Steven Holmquist, Jack Bovee, Sorin Engstrom, Garrison Solliday, John Charles Farrell, Ryan Elliot, Dylan Lynch, Nathan Nepstad, Gavin Engelbert, Christian Swanson, James Brennan, Brennan Fitzgerald, Anthony Fay, Will Juncker. Row 4: Oscar Berg, Leo Bluhm, Joe Dahl, Gabe Grady, Joe Vascellaro, Sam Trammell, Eric Groh, Rohan Burns, Luke Pucel, Max Feist, Michael Bagley, Rory O'Meara, Cooper Clinton, Danny Eldredge, Asa Rapp, Alex Stanley, Charles Matthews, Jordan Wold, Sam Neuville, Quinn Eigner, Michael King. Row 5: Tim O'Brien, Eric English, Kam Saffold, Patrick Murphy, Matthew Hudson, Billy Brandtjen, Shea O'Neill, Phillip Cattanach, Vincent Mueller, Rekhi McKinley, Seth Moore, Drew Wilhoit, Cesar Chino-Burton, Daniel Grady, Georgia Dobbs, Olivia Simmons, Peter O'Brien. Row 6: Greg Monohan, Demarius Travis, Jon Springer, Nick McCarthy, Chad Abbott, Justin Larson, Tim Flynn, Dan O'Brien, Luke Marks, Justin Hager, Roman Hernandez, Tim Hernandez, David Hottinger, Tim Fischer, Derek Wilson, Dane Mosher, Dave Ziebarth.
---
Section 6
Rogers High School Football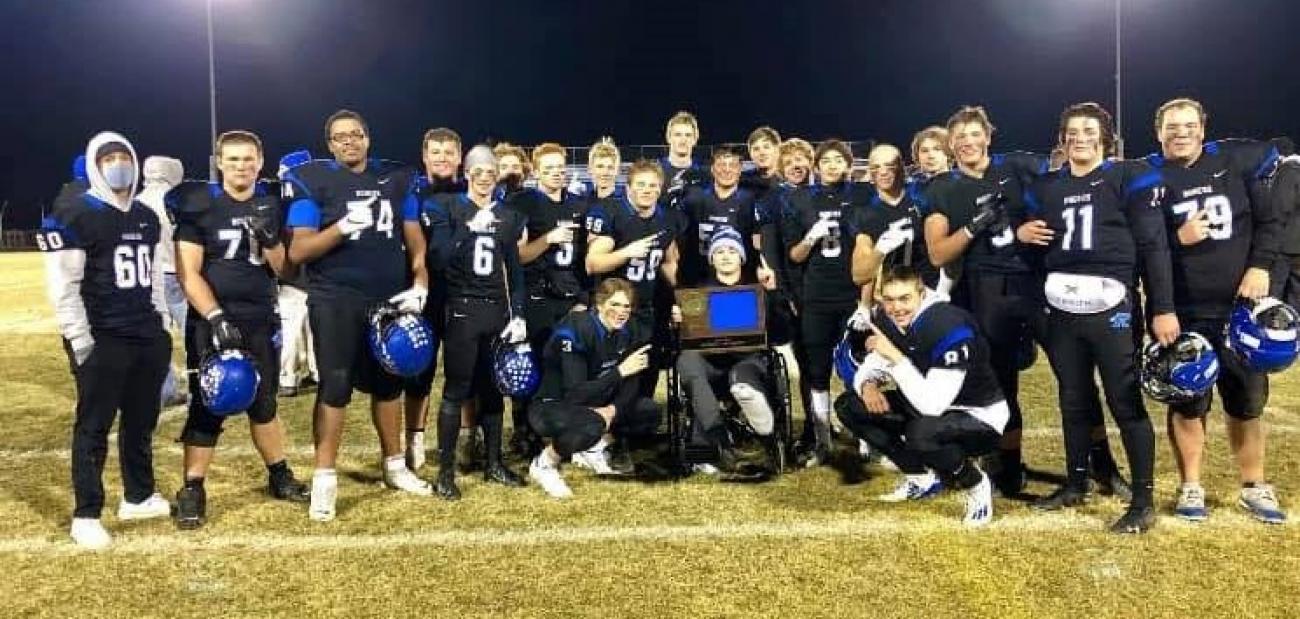 Row 1 (L-R): Tanner Weis, Tommy Gilmore, Joey Filipczak. Row 2: Emery Jones, Alex VonRueden, Dominick Zahner, Charlie Folkens, Remy Darr, Chase Baxter, Logan O'Neil, Treyton Parker, Riley Bauer, Jared Gast, Alex Emmrich, Jason Anderson, Ross Meskimen, Dominick Siharai, Ben Dahl, Logan Thelen, Alex Lundebrek, Zac Evenson, Alex Schmidt. Not Pictured. Michael Olowo, Zachary Knutson.
---
Section 7
Andover High School Football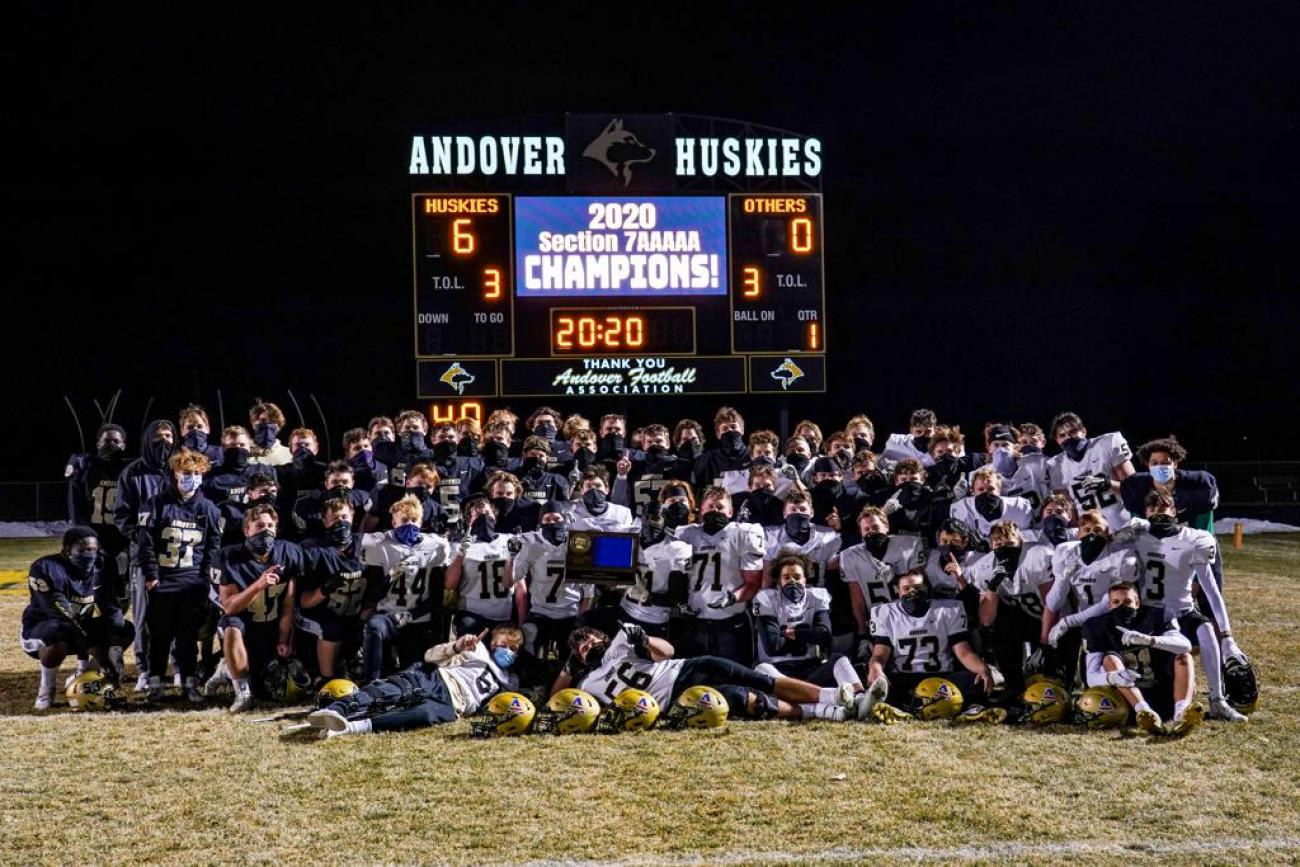 Photo includes: Andrew Schumacher, Kollin Weikel, Nick Feine, Charlie Fenton, Ben Audette, Jake Ficek, Ethan Gallipo, Owen Forschen, Matt Binstock, Brock Williams, Zach Johnson, Evan Kalmes, Elijah Alexander, Will Thomas, Connor Develice, Anthony Kuznia, Ethan Guerra, Julian Tyler, Sam Musungu, Weston Knox, Aghogho Eyafe, Logan Myers, Harry Baumhauer, Max Hunter, Joe Stuedemann, Graham Olson, Caden Wheeler, Nic ElDorado, Noah Van Voorhis, Henry Sharon, Aidan Flint, Reed Chock, Samuel Angell, Max Voss, Logan Fox, Zlanpoe Zuo, Erika Stenquist, Aanon Peterson, Riley Smalls, Tommy LaBonne, Jack Barstow, Gavin McLean, Chase Baker, Nolan Israelson, Shane Eppenberger, Alex Abdel-Kerim, Aidan Winter, Dylan Karger, Malcolm Zeah, Zach Kloek, Garyn Olson, Sean McDermott, Geno Schultz, Justin Kenning, Nate Kosek, Brayden Larson, Alex Froslee, Josh Surgenor, Nick Faddler, Hunter Tauzell, Calvin Crockett, Joey Miettinen, Isaac Lange, Blake Halleckson, JD Heller, Dylan Owens, Eric Sherer, Nate Beberg, Sabastian Alexander, Clayton Nowak, Matt Doerfler, Simon Young, Ben Kopetzki, Landyn Nelson, Jacob Peet, Calvin Foy.
---
2020 Class AAAAAA Section Champions
Rosemount High School Football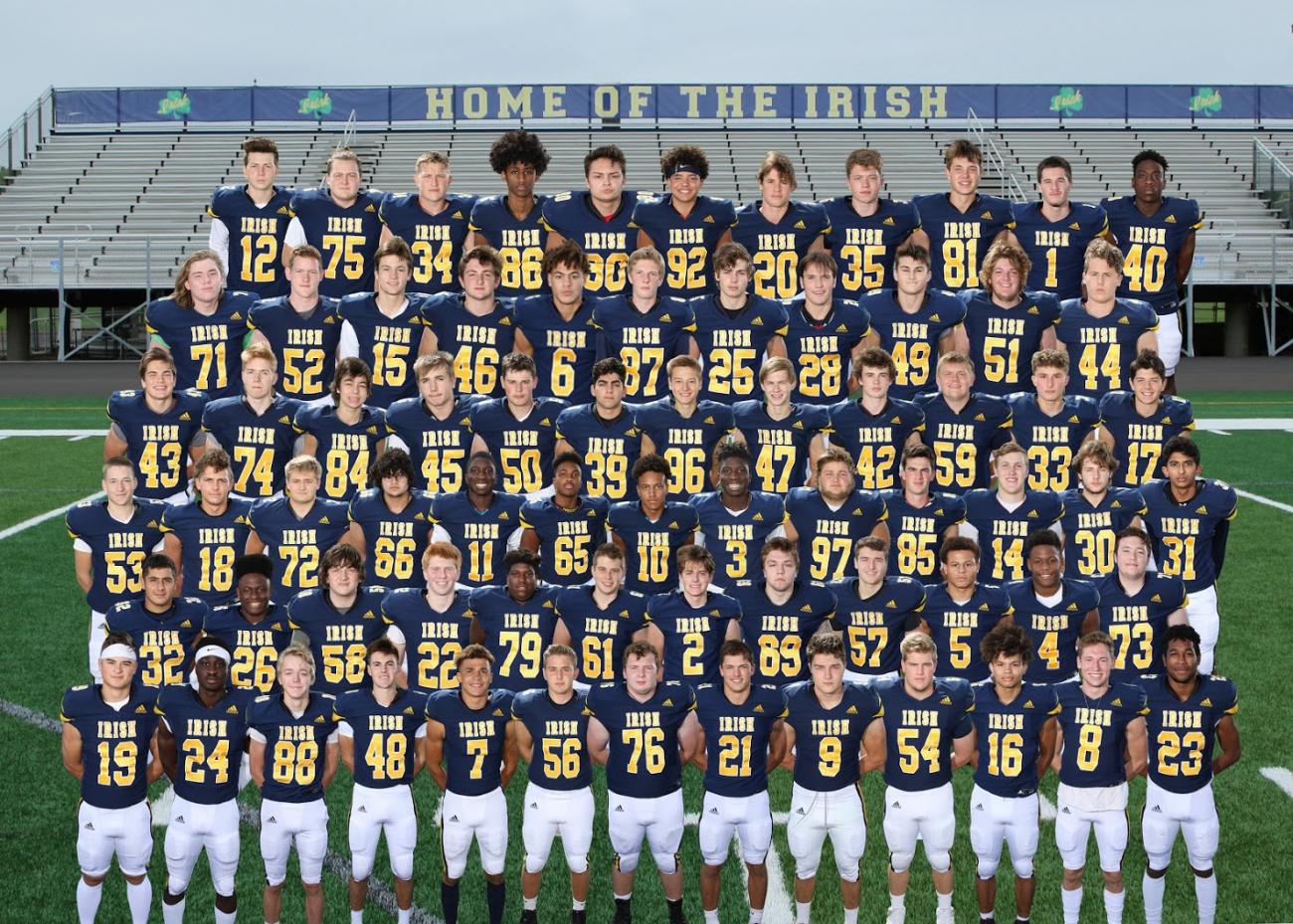 Row 1 (L-R): Antonio Bugni, Brian Boyake-Ansah, Jaden Berger, Teddy Bellrichard, Christian Graske, Koye Leenderts, Cam Rother, Jake Ratzlaff, Charlie Barnick, Grant Peroutka, Malik Robertson, Riley Gruenes, Sean Appold. Row 2: Zaid Dameh, Terence Campbell, Andrew Boehmer, Jack Wilharm, Dan Dixon, Devon Steenberg, Jordan Modrynski, Devon Cassady, Zach Simon, Miles Townsend, Jayden Washington, Alden Smith. Row 3: Gunnar Morrison, Connor Armborst, Sam Reiland, Adrian Bonilla-Rivera, Vicar Pyne, Godwin Osei-Bonsu, Tyson Coats, Vincent Pyne, Bryce Barsness, Zach Wenthe, Noah Loehr, Sam Swanson, Neal Sannuli. Row 4: Josh Liggett, Brady Greenbush, Josh Preiner, Tieran Gates, TJ Edminson, Joey Khoury, Leyton Simmering, Jack Ebeling, Jonathan Corbett, Connor McCarthy, Jack Christiansen, Gavin Henning. Row 5: Caden Davis, Erik Budin, Sean Sullivan, Blake Kroth, Cedric Wall, TJ Tidd, Ethan Olson, Kailer Wenzel, Ty Salak, Jonah Petersen, Cole McKinley. Row 6: Nathaniel Saba, Noah Lindsay, Hayden Bills, Ashenafi Sebhat, Cadien Kuenster, Darius Green, Ryan Roszak, Sam Kuseske, Ian Bass, Ethan Nyasende. Not Pictured: Jaylin Mansaray.
---
Lakeville South High School Football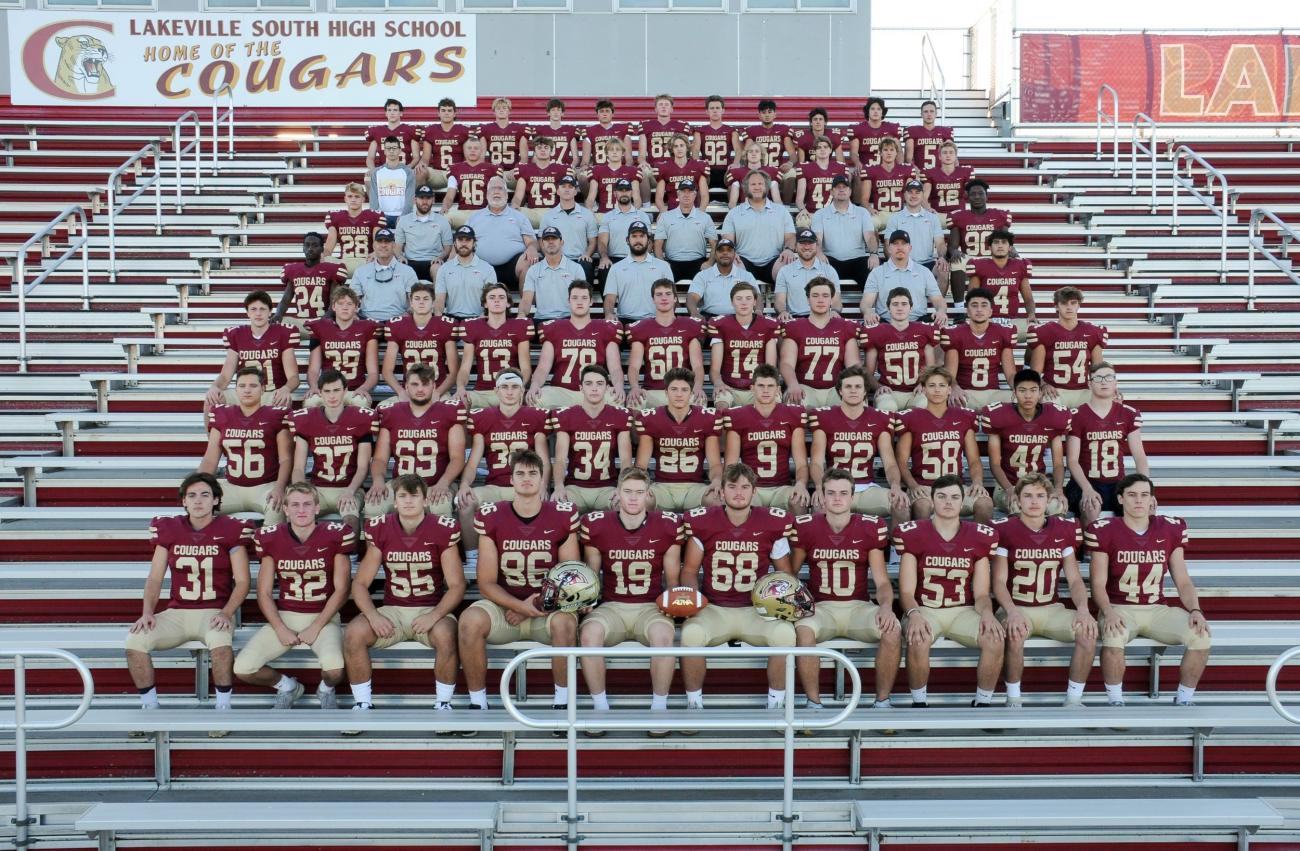 Row 1 (L-R): Logan Rasmussen, Brice Bischof, Jonas Pearson, Riley Mahlman, Cade Ahrenholz, Derek Ashland, Red Patterson, Charlie Swanson, Jack Malinski, Brock Mergan. Row 2: Maxim Davis, Tanner Polinski, Zander Lawrance, Peyton Hall, Trevor Donnelly, Garrett Savard, Will Geary, Riley Haglund, Sam Gillette, Johnny Keo, Alex Lund. Row 3: Matt Schegolkov, Matt Craig, Joe Abbott, Conner Everson, Jack Graham, Luke Thompson, Justin Loer, Jonathan Elliott, Luke Paider, Ali Kassim, Caden Hauschildt. Row 4: Amos Ongondi, Dirk Wells, Robert Peters, Mark Dean, Ben Burk, Mark Draper, Marty Schmitz, Glenn Hansen, Sony Simphilavong. Row 5: Carson Hansen, Matt Torgerson, John Bakken, Carl Ermisch, Mike Arlt, Bill John, Chris Rousemiller, Shane Minske, Andrew Hilliard, Delainey Suraju. Row 6: Anthony Sanchez, Hayden Mileski, Owen McCloud, Joey Ulman, Jaiden Cook, Hunter Webster, Brayden Cardis, Peyton Schulz, Camden Dean. Row 7: Christian Lempi, Zak Endres, Zach Juckel, Jaiden Johnson, Will Chlebecek, Chase Androff, Ty Winn, Hasan Kassim, Tommy Rongitsch, Alex Vazquez, Josh Jacobson.
---
Shakopee High School Football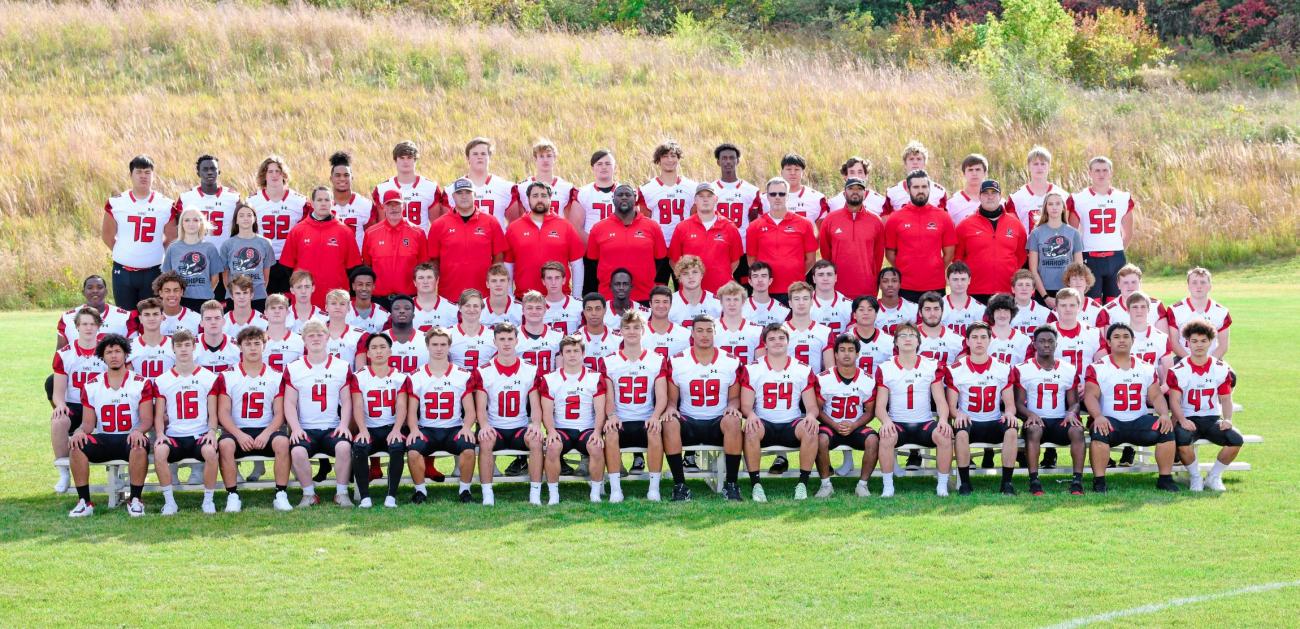 Row 1 (L-R): Marcel Torguson, Calin Huntley, Jadon Hellerud, Sam Treml, Jadeyn Tran-Panyasiri, Cole Malone, David Bigaouette, Seth Bakken, Ethan Mostrom, Deven Eastern, Jade Trelstad, Sohan Jerripothula, Alex Gonzales, Junior Chavez, Nana Yeboah, Devin Path, Elijah Sandridge. Row 2: Branden Kerns, Dominic Jackson., Brandon Johnson, Tanner Larson, Parker Thurber, 94 Caleb Antwi, Lucas Johnson, Luke Potter, Trevon Lusian, Logan Bullard, Westin Nascene, Harrison Bengston, Matalino Montano, Greg Niejadlik, Elijah Hansen-Ellis, Spencer Opitz, Owen Diede. Row 3: Parnell Gitau, Garrison Monroe, Aaron Lee, Owen Forsythe, Al Diallo, Dylan Hack, Josh Olson, Michael Pennington, Vincent Nyanducha, Tommy Johnson, Luke Gregoire, Logan Tomei, Kevin Miller, Carson Bazzarre, Jacob Frassel, Jackson Ungar, Ben Sedlacek, Mason Gaynor. Row 4: Gabby Gramont, June Trelstad, Rex King, Kirby Dorothy, Jason Trelstad, Andrew Weiers, Ray Betton, Rob Mainhart, Scott Tiedens, Sean McMoore, Brandon Jonker, Jason Singer, Lauren Schubert. Row 5: Dalla Manivanh, Donald Alimo, Ty Laden, Chandler Ross Jr., Josh Magin, Martin Koivisto, Nick Katona, Elijah Mechtel, Sam West, Yonis Mohamud, Shawn Kim, Jace Garcia, Quinten Snell, Cole Sutrick, Aftyn Hodgkins, Luke Steinhoff. Not Pictured: Ashton Schriever, Dagan Chamberlain, John Kroll, Michael Parks, Ethan Welna.
---
Eden Prairie High School Football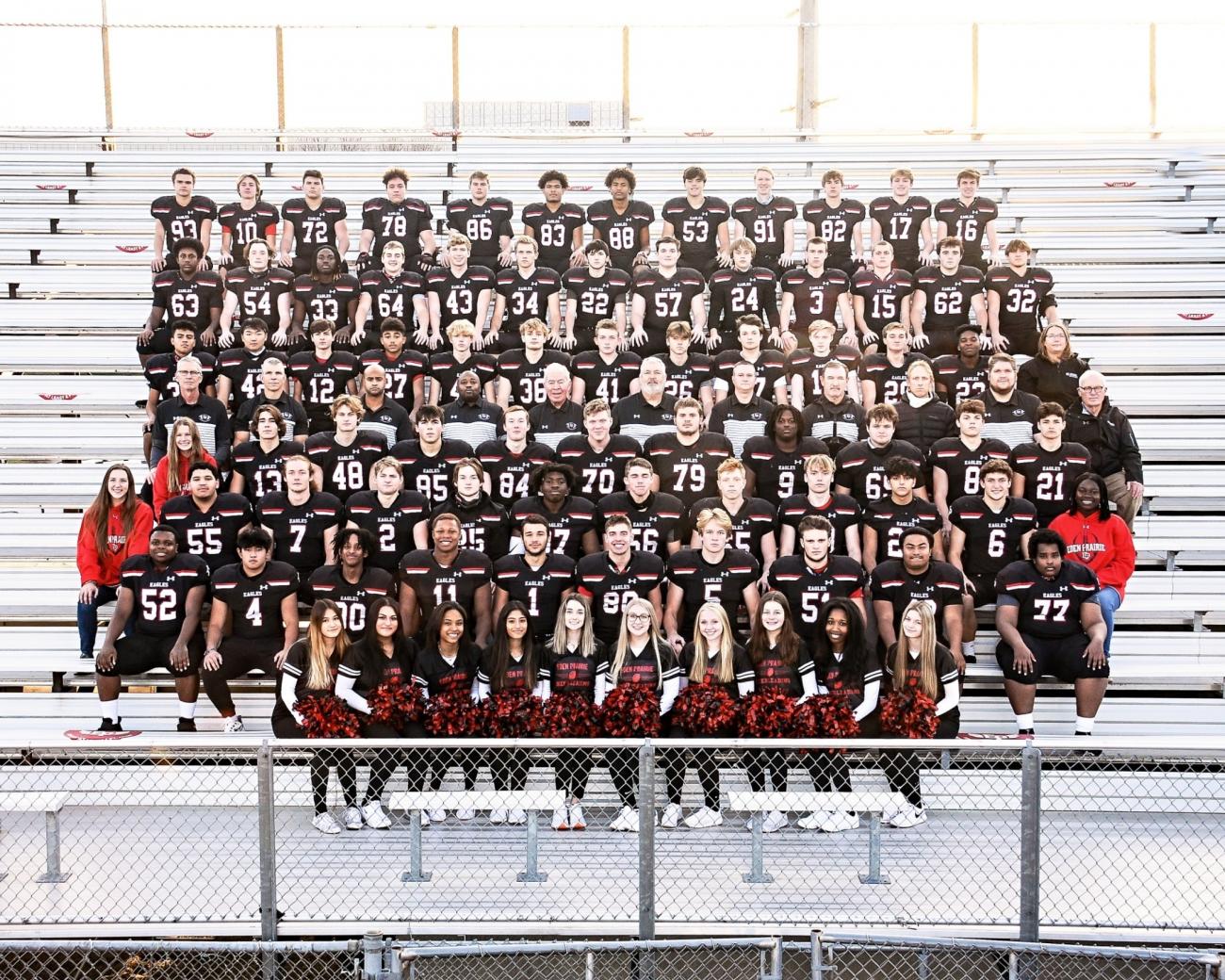 Row 1 (L-R) - Cheerleaders: Madison Lin, Tristan Victoria, Lilly Berc, Kynna Wahi, Ryanne Olejnicak, Chloe Thompson, Andrea Porter, Lauren Swanson, Nadiah Johnson, Mady Hamilton. Row 2: Adin Barclift, Art Wencl, Farxan Hassan, Justice Sullivan, David Warren-Mitchell, Cade Kramer, Dan Knudsen, Keegan Shimley, Manny Falaniko, Maklik Mohamed. Row 3: Annika Welter, Xavier Urena, Tyler George, Johnny Hartle, Bryson Brettin, Terry Davis, Brady Rorke, Anton Lang, Alex Ivey, Evan Lissick, Leif Benson, Favour Nache. Row 4: Kari Welter, Connor Reynolds, Tait DePaepe, John Cavanaugh, Jacob Walden, Sam Henry, Forrest Scheel, Trent Jones, Tristan Edmonds, Cole O'Gorman, Ty Leske. Row 5 - Coaches: Mark Ritter, Steve O'Toole, Windlan Hall, Titus Bates, Richard Gaughran, Head Coach, Mike Grant, Tom Anderson, Mark Griffin, Andrew Rotschafer, Mike Monks, Trainer, Gary Smith. Row 6: Jessie Lara Pliego, Takuya Nishi, Brandon Carbone, Jacory Bates, Cade Hutchison, Shiloh Stone, Jacob Stoffel, Noah Anderson, Jacob Zeller, Grant Ostlund, Trevor Johnson, Takhi Vaughn, Trainer Teri Edelbeck. Row 7: Araso Goshe, Brett Hughes, Javon Palmer-Pruitt, Jon Sather, Riley Young, Noah Eckness, Logan Thum, Will Sather, Keltin Brettin, Tyler Walden, Logan Gareis, Noah Haeger, Bennett Larson. Row 8: Bobbi Heiberg, Nick Fazi, Zach Gau, Devyn Stanton, Colby Hokanson, Jermell Taylor, Chiddi Obiazor, Luc Bouchard, Aidan Wood, Michael Gross, Danny Frischmon, Andrew Cornelius.  
---
Centennial High School Football

Photo includes: Isaak Ankrum, Noah Berger, Cameron Bettinger, Brenden Burggraff, Ty Burgoon, Joshua Carlson, Dylan Carver, Tyler Case, Luke Clark, Ethan Colacicco, Jackson Copiskey, Jacob Cregan, Brandon Davis, Colton DeGeest, Jacob Delmedico, Evan Dietz, Justin Doce, Riley Dougherty, Matthew Eckart, Nicholas Eichelberger, Cole Erichsrud, Zachary Frank, Max Gebhardt, Aidan Gould, Chase Granzow, Maverick Harper, Jesse Hauck, Evan Hobday, Jonah Hylton, Brady Ivory, Kevin Jansa, Thomas Juhl, Evan Lechner, Benjamin Lee, Collin Lee, Logan Lieser, Mason Lindsay, Reese Littlefield, Lance Liu, Jaiden Loots, Mason Mix, Zachary Nelson, Reese Neudahl, Travis Newville, Lance Nielsen, Cody Nippoldt, Jacob Nohrenberg, James Novatney, Eli Nowacki, Daniel O'Neill, Logan Palmsteen, Thomas Palmsteen, Basil Paraschou, Aidan Pate, Jake Peterson, Samuel Pietraszewski, Henry Pirner, Nick Popp, Trevor Quesnell, Will Quick, Michael Ristow, Samuel Rodriguez, Tyler Rundle, Chase Schaefer, Avery Schendzielos, Luke Schneider, Nathan Strom, Thomas Swim, Jake Sykora, Alexander Szurek, Andrew Szurek, Maxwell Taylor, Malachi Thoennes, Kenjin Vang, Marco Villa, Evan Walsh, Elijah Ward, Isaiah Ward, Griffin Weber, Oskar Welsch, Joseph Westerham, Ryan Wirtz, Calvin Yang, Logan Youngbauer. Coaches: Head Coach Mike Diggins, Travis Littlefield, Michael Diggins, Steve Hemming, Nate Balzer, Bob Eckstrom, MIke Fregeau, Brett Littlefield, Bryce Marquardt, Michael Pierson, Dave Poppe, Nigel Timm, Spencer Waldvogel, Matt Watson, Mike Watson.
---
Blaine High School Football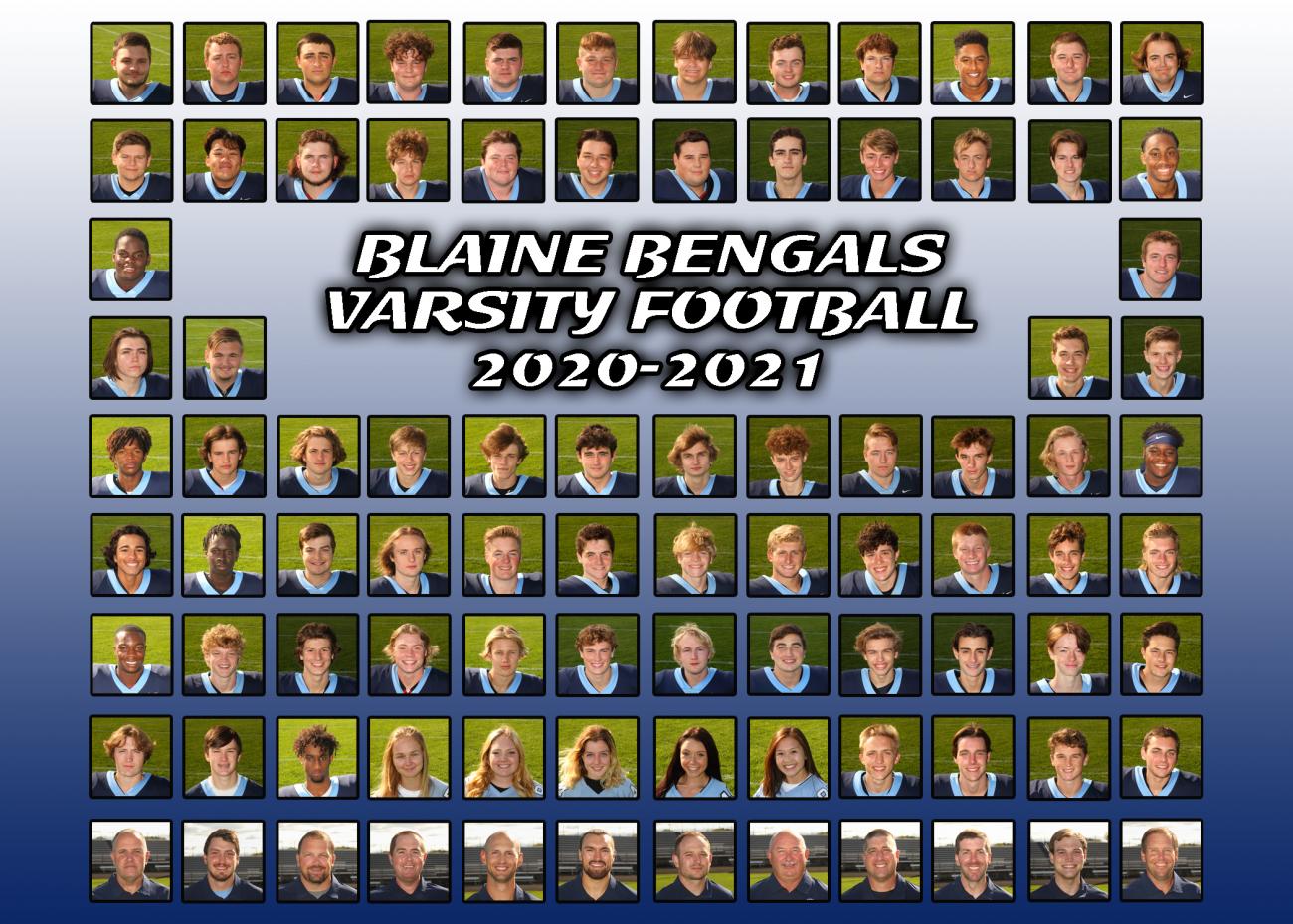 Top to Bottom
Row 1 (L-R): Connor Morrison, Zach Byers, Austin Keller, Jacob Godfrey, Xavier Powers, Jeremiah Constant, Landon Emmel, Tanner Ellis, Nathan Schilla, Jakobi Aruyea, Jackson Broulliard, Alexander Boettcher. Row 2: Ramon Sotelo, Augur Xiong, Jacob Lind, Calvin Ristow, Brock Jones, Sam Schmitz, Zach White, Blake Dubois, Cole Schmidt, Jake Emslander, Jacob Darby, Jordan Reynolds. Row 3: Clayton Huber, Cole Bruley. Row 4: Zach Peterson, Brian Knudlien, Parker Dahlman, Nick Sneen. Row 5: Tobias Huber, Graisen Jordan, Finn McAuley, Alex Carik, Tyler Chaffins, John St Ledger, Darrien Foster, Jacob Niemen, Dominick Romo, Riley Carr, Dylan Shockley, Daniel Obwaya. Row 6: Peyton Bridges, Jackson Richard, Preston Meyers, Matt Young, Jonathan Gazich, Connor McGinley-Colman, Isaac Moin, Josh Schlangen, Jordyn Greseth, Dereck Zahratka, Spencer Logan, Cade Downey. Row 7: IBK Mafe, Jack Clark, Tyler Schuster, Will Fredrickson, Dylan Muyers, Max Stepanek, Chase Boyer, Cody Foster, Luke Studer, Parker Podany, Adam Anderson, Noldan Bethel. Row 8: Hayden Zenk, Joey Powers, Mohamed Mohamud, Ava Meglein, Emily Olson, Erin Skerpski, Keira Grose, Sandra Yan, Nate Carlson, Dylan Kolb, Luke Johnson, Luke Heggestad. Row 9: ​Steve Guider, Michael Law, Matt Smude, Beau Dickey, Wes Satzinger, Dan Bell, Aj VanVoorhis, Tom VanVoorhis, Ryan Weber, Dave Bestul, Ryan Erlandson, Rob Nick. Not Pictured: Sam Olson.
---
2020 Football Section Championships
November 19-20, 2020
Various sites throughout Minnesota
---